Bryson's Boxa Kennel - Missouri German Shorthaired Pointer Breeders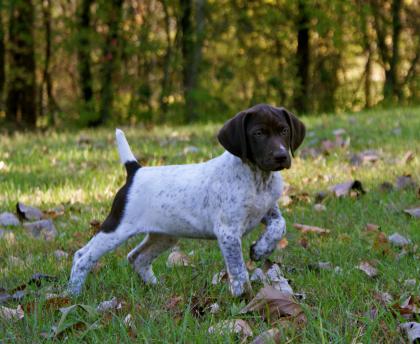 About Bryson's Boxa Kennel
Thank you for your interest in Bryson's Box A German Shorthaired Pointers. Our dogs are bred to be great companion hunting dogs. Our dogs are bred to be great hunting companions. Purposeful Breeding focuses on a balance of three equally important qualities. 1.) Natural Ability and Independence, 2.) Trainability and Intelligence, 3.) Health and Conformation. Our dogs live on property nestled in Missouri's heartland. They are hunted extensively throughout Missouri, Iowa, Kansas, Illinois, and Texas on wild quail, pheasants and upland game. The dogs also compete in AKC field trials and hunt tests throughout the midwest.
Hunting Dog Breeds Raised
German Shorthaired Pointer
Breeder Contact Info
Testimonials (3)
Submitted by: Alex Silva on Nov 27, 2013
I would recommend anyone who is interested in a Shorthair to talk to Caleb. I just recently started to get into bird hunting and wanted to get a shorthair for a family pet and hunting companion. Caleb gave me the chance to watch the Ruby and Wendell work in the field before putting my deposit down on a dog. You pay a little more for a pup from Boxa, but its completely worth it in my opinion. For more information, visit on my blog doubletapoutdoors.wordpress.com/‎
Submitted by: Guy Jordan on Aug 30, 2010
I have spent my life hunting over flushing dogs and about 5 years ago was looking for a change. Through a associate of mine I was introduced to the Brysons in search of a gsp. Caleb allowed me the privilege of purchasing a male pup out of the available litter. Since that time Caleb has assisted me in training tips and advice on owning a pointer, and we have succeeded as a first time handler to an AKC senior hunter cert. and a 208 prize 1 natural ability test and a 198 prise 1 utility test through NAVHDA. I have started a journey with another pup with from the Brysons and will be testing shortly at his Natural ability test in sept. The dogs temperment are fantastic, with very strong retrieiving desire, strong pointing, and good water skills. My 5 year old and I have hunted all over the country, from main to south dakota, and he has demonstrated great durability, the ability to go when even hurt and tired, and has performed well in the duck blind in pennsylvania winters on flat water,the big rivers, and the surf.
Submitted by: Ron Braddy on Aug 29, 2010
I have purchased 2 male shorthairs from Bryson's Boxa Kennel in the last five years. I have a five year old and and one year old. The five year olds name is Levi and he has hunted Missouri, Kansas, Texas, Iowa, and Nebraska for wild quail and pheasant and I could not be more pleased with him. Levi is very trainable and a great companion. This will be the frist season for my one year old shorthair Walker, and i am looking forward to it. I have high expectation for him and he seems to have lots of potenial.
Submit your testimonial