Box Farms - Missouri Weimaraner Breeders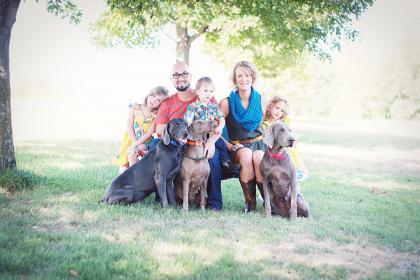 About Box Farms
We have owned, trained, and hunted Weimaraners for about 11 years. I'm an avid hunter and am extremely passionate about the wonderful Weimaraner. We fell in love with our first dog 12 years ago and shortly thereafter decided to share her wonderful genes. Breeding became an amazing hobby and great experience for our whole family. We keep in touch with our buyers and enjoy our updates and pictures. We are NOT a kennel or a puppy mill!!! We own 3 Weims and enjoy raising them on a large farm with plenty to hunt! Our puppies are socialized from the second they're born. Our mamas live and have their pups inside our home. Our 3 young children are constantly in on the action doting over and handling the pups. Our Weims are fantastic with children and hunt hard in the field! We believe it's because of great genes, early socialization, and great health. Health is central for us! My wife is a Naturopathic Doctor, and her passion for wellness is also focused on our dogs. Our dogs and pups are raised chemical free! (aside from mandatory vaccines). We use herbal wormer, natural immune builders, and only the best holistic food. We recommend vaccinating according to the Weimaraner Club of America. Many breeders give the pups unnecessary vaccines which can compromise a pups immune system. We do NOT.
 HighD (Heidi) is our champion Weim, and we are proud to announce this years litter. She got her Senior Hunting Title when she was just a year and a half! She is bird crazy!! This will be HighD's last litter before she is retired.  Here is a link to HighD's pedigree...
http://www.weimaranerpedigrees.com/details.php?id=133483
This year we selected a sire that has endless amount of birds under him. He has incredible water drive and will rival any lab out there! He was on the field trial circuit and did a great job.
We also have another field bred Weim that will be having a litter this spring. Please call and find out more about HighD, or this years litter schedule. These are prime pups! All puppies are started on birds by 5 weeks of age... along with being introduced to water. Our puppies contain amazing natural ability. Our puppies are raised for hunting partners, family companions, agility, show, tracking, and therapy...they truly are the versatile dog. Please contact us with any questions or information.
 Deryck Box @ Box Farms
Hunting Dog Breeds Raised
Weimaraner
Additional Services
Hunting, Fishing, Stud Services
Breeder Contact Info
Testimonials (3)
Submitted by: Blake on May 14, 2015
Deryck has an excellent breeding program. I received my Weim, Duchess, from Deryck about 2 years ago and she is an amazing dog. She is a driven hunter and a great family dog. She received an Evaluation score of 110 from NAVHDA although she had no NAVHDA specific training. Duchess is an incredible dog and Deryck was and has been great. He still checks in on her and is always excited to hear how she is doing. He has always been available for any questions or support we need. I would recommend Deryck's Weims!
Submitted by: Kimberly Bergey on Apr 21, 2015
I am so thankful that I found Deryck Box of Box Farms!
He his very personable, knowledgeable, and takes extreem care of his weims! You can be rest assured that if you get a pup from Box Farms they will be high quality and well loved and taken care of until the day you get your pup!
I called and texted Deryck more than my fair share of times with any questions I had before, during, and after the gestation period. I really felt like I was apart of the whole process. He always responded promptly and went above and beyond with any information I wanted. Even photo texting me pictures of my pup when she was born!
I received Bella Sky my female Weimaraner, back in February. I live in Alaska so I had her flown up. It was easy because all I had to do was call the airline, pay for the ticket, and pick her up at cargo! Bella, albeit tired, was healthy and in friendly spirits! I cuddled with her all the way home as my husband drove.
Bella is 5 months old now and I love her so much! I work with her everyday and she is well behaved, secure, and smart! I hike and run almost daliy and Bella is the best partner! She stays with me, watches out for me, and has already warned me of a bear nearby while hiking at only 3 1/2 months old!!
Thank you so much Deryck and Amanda for all the healthful care you take with your weims and for being breeders I can trust in!
Submitted by: Jill Millspaugh on Apr 10, 2015
Deryk Box and his wife were really great to work with. They kept us informed about our puppy with phone calls and photos. If anyone is looking to purchase a Weimaraner puppy, check out Box Farms.
Submit your testimonial