Adams Marsh & Meadows Labs - Missouri Labrador Retriever Breeders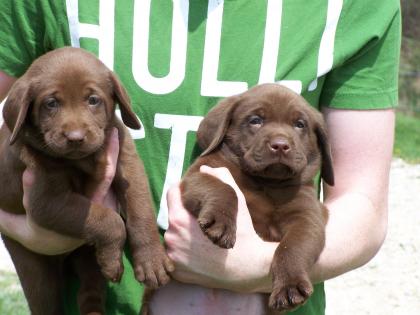 About Adams Marsh & Meadows Labs
Last litter of this pairing!!
We have had four great litters with Ms. Cocoa, but she is at an age where we no longer want to breed her. The first three litters were great and all owners that we have stayed in contact with are highly pleased with there dogs personality, drive and "trainability."
We currently have (4) pups for sale, (1 )male and (3 ) females and due to previous demand and small numbers were are asking
$600.00
for all pups, and would be happy to put you in contact with current owners/previous buyers.
We hope to hear from you soon...pups will be
ready to go Christmas week, 2011.
Hunting Dog Breeds Raised
Labrador Retriever
Breeder Contact Info
Testimonials (1)
Submitted by: Tyler on Nov 15, 2011
I bought a male, chocolate lab from the Adams just over 2 years ago. Harley is doing exceptionally well and has turned into a great dog. He is just over 2yrs, while our other two labs are 12 and 13 yrs. Good breeders, great dog.
Thanks.
Submit your testimonial