SMOKIN RABBIT KENNELS - Mississippi Beagle Breeders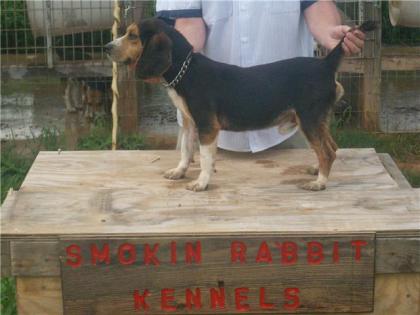 About SMOKIN RABBIT KENNELS
We are known for having the hardest hitting tricolors and blueticks east of the mississippi, we have FC D FRED'S SAMBO, FC JR'S TJ, BRANCO, SKULLFORK, CAPT MIDNIGHT, FC HILLTOP BLACKACE, NIP OTIS, LIZARDCREEK BOOGYMAN, SHORTS PRO, HANKS JOJO BLUE, GUNSMOKE, ALL akc registered
Hunting Dog Breeds Raised
Beagle
Additional Services
Hunting, Stud Services
Breeder Contact Info
Testimonials (6)
Submitted by: bobby avery on Jun 09, 2011
What is the average price of your beagle pups ?when will you have any for sale? Send MSG by email thanks .
Submitted by: Laken Bailey on Nov 29, 2010
I am looking for some female blackcreek puppies.I have some male puppies now and they are started and I would like to get a couple more to contact me just send me an email at baileyslake@gmail.com
Submitted by: Tim Smith on May 22, 2009
I bought a male beagle pup from Terry. he was lightly started at the time, i took him to the vet as i do all my pets and he was worm free and healthy. The vet said he didn't know what type wormers he used but there wasn't any signs of any worms, he said good job. The pup is now 13 months old and doing a fine job, Terry give me a call whenever you have another pup available from this cross.
thanks
tim
Submitted by: timmy phelps on May 14, 2009
I purchased 2 6month old pups from terry, he was very polite and i have called him several times for some training advice, i would recommend anyone that wants a good bred dog to give him a call.
Submitted by: jimmy gray on Apr 25, 2009
I bought a Tricolor puppy from Terry, july of 08, he is doing a fine job, Terry has some fine hounds, and i am also on the list to get a couple of pups this year.
thanks
terry
Jimmy Gray
Submitted by: James Long on Mar 17, 2008
I have personally purchased 2 young hounds from Terry, and they were exactly as he stated they would be, healthy, and he will show any started dogs he sells in the field, he also has a very nice kennel, very well taken care of.
Submit your testimonial