Mitchell's Llewellin Setters - Mississippi Llewellin Setter Breeders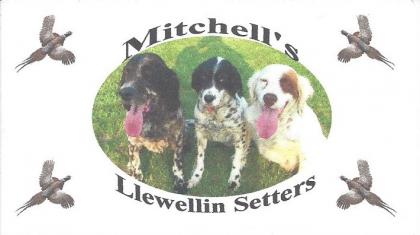 About Mitchell's Llewellin Setters
Mitchell's Llewellin Setters has some of the purest Dashing Bondhu Llewellin Setter bloodlines that can be registered in the FDSB. We also breed some of the finest imported lines. They are excellent hunters as well as a close companion. Puppy references are available. Our puppies have a hereditary health guarnatee. Call or email for any addtion information. Our website contains information about available Llewellins.
Hunting Dog Breeds Raised
Llewellin Setter
Additional Services
Hunting, Stud Services
Breeder Contact Info
Testimonials (1)
Submitted by: Joe Theobold on Feb 20, 2017
Ronnie was very helpful in my process. I wasn't able to pick the pup up until after the rest were gone but he held him. Since getting home this puppy, Pete, is all Lleweelins are cracked up to be. He's smart, biddable, and well mannered inside with my kid. On quail he's hard charging. Almost like an on/off switch. Great folks to work with and I'm very pleased with my puppy.
Submit your testimonial