BIG CREEK BEAGLES - Mississippi Beagle Breeders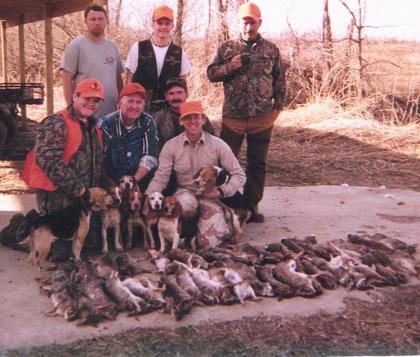 About BIG CREEK BEAGLES
We are the home of the REDTICK BEAGLES. We breed redtick beagles which go back to Hank's JoJo Blue bloodline. We strive to breed dogs that have lots of search, good line control, and run a rabbit until it gets to the gun or goes in a hole. Call Brother Ricky at: (662) 289-1312. Check out our website at: www.bigcreekbeagles.com
Thanks
Hunting Dog Breeds Raised
Beagle
Additional Services
Stud Services
Breeder Contact Info
Testimonials (3)
Submitted by: K B JOHNSON on Jul 23, 2009
Red ticked beagles? You better believe IT! Nothing but the best dogs I have ever had! BAR_NONE! My boys Browning & Ruger, WHOA!!! I always get complimented on them. Everybody always see's the tri's but not RED TICKs. Little AD-Vice, Alot of work but worth it. These are NOT ordinary dogs. Lots of energy for the hound group!!!! See Big Creek testimonials for a picture.
Submitted by: Tyler Banks on Mar 18, 2009
I bought Choco from Mr. Ricky about two years ago and i've been nothing but pleased by the way this dog performs. He's one of my best dogs. Mr. Ricky Summers is a great man and knows alot about rabbit dogs. If your looking for a great dog there so no where else to go than Big Creek Beagles.I've said it once and i'll say it again thanks so much Mr. Ricky for a great dog!
Tyler Banks
Submitted by: steve terenzoni on Mar 18, 2009
I bought a lemon redtick male pup ("TUCKER") from Ricky. I was very pleased with the quality puppy that I got and he was very easy and a pleasure to do business with. He sent pictures of the pup and the parents for me to see. Always was looking in my best interest through the whole purchasing process and always keep me informed. All I can say is that when I plan to add another beagle to my kennel it's coming from BIG CREEK BEAGLES...thanks alot Ricky!!!!!
Steve Terenzoni
Submit your testimonial