Winmara Clumber Spaniels - Minnesota Clumber Spaniel Breeders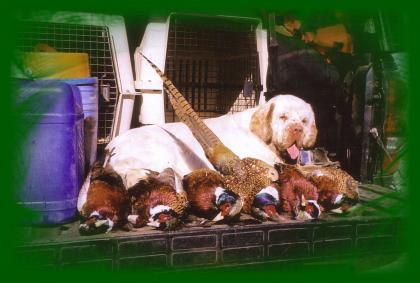 About Winmara Clumber Spaniels
Our Clumbers are our children. We show them, hunt with them, and love everything about them. They are fantastic hunting dogs but they are also wonderful companions for us and our grandchildren. Timber, our male clumber, has made us especially proud as he has won many show honors including the Canadian Clumber Nationals and an Award of Merit at the AKC Eukanuba Championship.
We currently have a litter of puppies that were born 12-22-09.
Hunting Dog Breeds Raised
Clumber Spaniel
Additional Services
Stud Services
Breeder Contact Info
Testimonials (1)
Submitted by: Donna Seiders on Apr 27, 2010
We just got our 4 month old Clumber from Winmara and she is an incredible pup. She is housebroken, knows her name , comes when called and sits!
In addition, she is just beautiful in appearance and temperment. The breeders are amazing people that go above and beyond to make the experience of bringing a new pet home one of ease and trust.
Our whole family is in love with this dog.
Please feel free to email me with any additional questions you may have.
Sincerely,
Donna Seiders
Submit your testimonial