Torgs Labs - Minnesota Labrador Retriever Breeders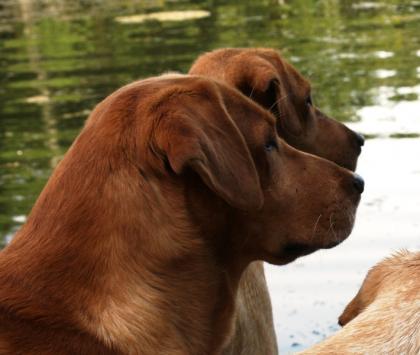 About Torgs Labs
Grand Hunting Retriever Champions, Hunting Retriever Champions, and Master Hunter titled Fox Red stud dogs. Our stud dogs have good or excellent hips, normal elbows, and clear of PRA/PRCD/RD/OSD/EIC/CNM. Fox Red, Yellow, and occasionally black. Labrador retrievers puppies. Established breeders of handsome field bred Labrador retrievers for FAMILY, competition, service dogs, hunting, agility, shed hunting, scent training,and companionship. Torgs Labs has 5 generations of selecting for natural hunting instincts, intelligence, train-ability, and family oriented personalities.
Health clearances with written guarantees.
Our pups can be found in homes and fields throughout the United States and Canada. Our labs have proven they will satisfy the most demanding buyers. We offer puppies, stud service, and an occasional started dog.
Please join us on our Facebook page Torg's Labs to view pictures of satisfied customers and their Torg's Labs dogs.
Home of:
GRHRCH 4XGMPR HRK Rooster Smasher, CGC, MH, QAA
Torg's Erik The Red, MH
Whiteoak's & BC Stoney Burke, MH, QAA
HRCH Torg's Hunting Memories, MH (Tanner)
HR Torg's Chip of the Ole Stoney, MH (Rocky)

Hunting Dog Breeds Raised
Labrador Retriever
Additional Services
Stud Services
Breeder Contact Info
Testimonials (2)
Submitted by: Dan Miller on May 16, 2019
I purchased a male Fox Red from Torgs about 6 months ago ,( Justice) this dog has incredible instincts and ability to learn along with a great disposition , I haven't started him on birds because of the tough winter but I can see by his reaction to birds it will be a smooth transition. Big , Strong and Sweet, I love him. Highly recommend you take a look at this breeder
Dan Miller
Submitted by: Marlynna Pellegrini on Jan 23, 2008
We purchased 1.5 y.o. Torg's Ramblin Gamblin Gus JH in December 2006.
We are absolutely in love with him! After spending his 2 y/o year hunting pheasant and ducks all over the country with Frank, and breeding our Black Female, Lightning Lucy...we have decided to finalize his hunt test training with a lovely gentleman by the Name of Phil Brown, of Brownies Ozarks in Springfield, MO. Gus also produced 12 gorgeous puppies all of which sold by 6 weeks! It was absolutely gut wrenching to have to leave our playmate and hunting machine with another person but we know that he is only a few ribbons away from getting his Master Hunt Title. Phil is also in love with him and thinks that he is a prospect for qualifying for the Master National in September. Thank you again for helping along the way and hopefully you will see Gus on the Hunt Test Circuit this summer!
Thank you again,
Marlynna Pellegrini, Frank Pellegrini D.V.M., Torg's Ramblin Gamblin Gus JH (Soon to be MNH!)
Submit your testimonial