Thunderstruck Retrievers - Minnesota Golden Retriever, Labrador Retriever Breeders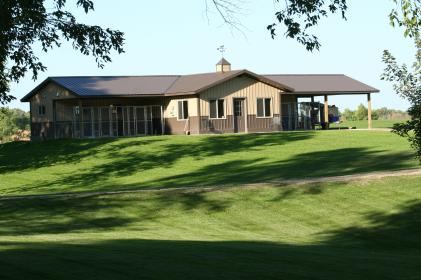 About Thunderstruck Retrievers
Thunderstruck Retrievers is located near Alexandria, Minnesota on 40 acres of softly rolling glacial hills providing both training ponds and cover. We specialize in Golden Retrievers with some Labrador Retrievers--raising, competing, hunting, and breeding retrievers who are multi-purpose: strong field trial and hunt test competitors with friendly, loving attitudes who can serve as hunting companions and pets.
The Golden Retriever venture began in 1980 with the purchase of Otterness's Misty Morning (a granddaughter of FC AFC Right-On Dynamite John FDHF) from Ralph and Theresia Doubeck. Todd began training and competing at Central Minnesota Retriever Club while still in high school and learned the ropes of dog training from the Doubecks and Lawrence Martin, spending hours throwing birds and handling Misty. As our children, have gotten older, we decided to begin training and trialing/testing together, so after close to 25 years of owning our own business and teaching, we embarked on an additional venture--Thunderstruck Retrievers.
We enjoy both hunt tests and field trials, but our competitive side prefers the field trials. It is definitely addicting!! We enjoy training the dogs together and both of us handle our dogs. Our breeding program includes early neurological stimulation and daily socialization and problem solving to promote health and brain development.
If you are eager to have a working dog that also will be a great companion in your home, please contact us. We breed for the competitive homes that will give our puppies a job to do as they grow, but our litters will also be appropriate for hunting companions and as pets. Our goal is to send puppies to your homes that are well socialized, eager to learn, inquisitive, and full of desire. We work hard to match litters and puppies with the client's needs so that a life-long relationship grows!
Hunting Dog Breeds Raised
Golden Retriever, Labrador Retriever
Additional Services
Stud Services
Breeder Contact Info
Testimonials (0)