THISTLE ROCK RANCH & KENNEL - Minnesota Golden Retriever Breeders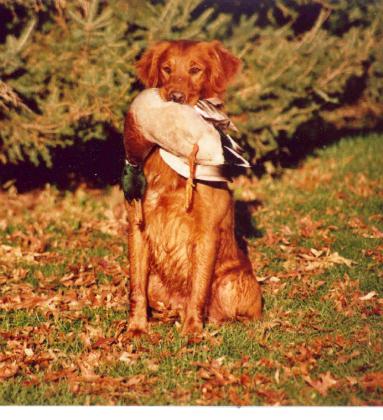 About THISTLE ROCK RANCH & KENNEL
Tom & I have been raising Golden Retrievers for Many years.....(over 45) & we have seen many different sizes, colors, & talents in those years of breeding.  We have strived for an exceptional Hunting Golden that can also be a excellent family member.  Tom has hunted all types of birds in many States & Countries.  We have periodic litters and ocassional started dogs through the year. 
Our breeding stock has many of the strong retrieving bloodlines with many being direct sons/daughters of FC/AFC Field Champions (or Canadian Titled) or Hunt Test Titles.  Several of our dogs have earned Outstanding Sire Titles/Outstanding Dam Titles which means they are Producing good Retrievers.........We strive for a hard going, well mannered retriever with trainability & brains.  All of our dogs certifications are done before we do any breeding.  We use the Golden Retriever Club of America Code of Ethics as our guideline.  We certify Hips, Elbows, Heart, Thyroid, & Eyes on our breeding stock.  As new technology comes to all of us there are more tests (DNA including prcd-PRA, GR-PRA1 & ichthyosis) that we are doing on our young dogs.  All of our dogs are listed on the www.k9data.com  site with full pedigrees & clearances listed for each dog. 
Now go get you & your dog ready for the field......work with your dog so you are ready for the great hunting you will have.....If you need help ask someone you respect to help you & your dog, there are many good information sources out there to help you.... 
  Thank You  Lynn
TOM & LYNN LANE
THISTLE ROCK RANCH & KENNEL
11076 205TH AVENUE NORTHWEST
ELK RIVER, MINNESOTA  55330
PHONE:  763-441-3162
Hunting Dog Breeds Raised
Golden Retriever
Additional Services
Stud Services
Breeder Contact Info
Our Pedigrees
Testimonials (3)
Submitted by: Clay Slack on Nov 18, 2015
We got our third golden from thistle rock and he is fantastic! Was wanting a great field retriever but worried if he could also be a family dog that we could tolerate in the house. The dog is an awesome retriever and is very enjoyable in the house. My wife loves him. Lynn was a great help in getting the puppy and we could not be more happy! It was great meeting you Lynn and much thanks from Austin.
Submitted by: Ann Sutmar on Dec 31, 2014
I am not one to normally write reviews, but I truly can't help myself in this certain scenario. Our family purchased our very first Golden Retriever, Bentley, from Thistle Rock and we could not be more in love. He is the PERFECT addition to our family and we could not have dreamed up a smarter or more lovable pup. We are not a family that hunts, but we are extremely active and love spending time outdoors, and his personality fits in perfectly! He is a very loved & active little boy! Thank you so much, Thistle Rock! We are SO in love and would recommend your kennel to anyone that is looking to add a golden to their family!!
Submitted by: Dave Sargent on Feb 18, 2014
This is my 7th Golden in my life and she is our 1st from Thistle Rock. I am not a hunter but she is the smartest, best mannered, most enjoyable Golden I have ever had. We had not heard of Thistle Rock prior to an ad in the paper, but we would definitely go back. Thank you for our wonderful dog (DJ) who is a great addition to our family.
Submit your testimonial