Setterland Setters - Minnesota English Setter Breeders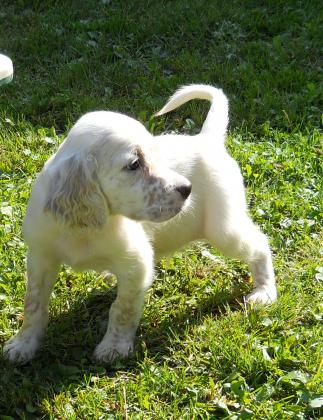 About Setterland Setters
Welcome to SetterlandSetters now known as Setterfield Bird Dogs. I had Setters for 21 years. They are great hunters and great family dogs. We OFA our dogs only dogs use with fair to excellent hips in our breeding program. Dewclaws removed vet checked, first shots and wormed. They are raised in the house. Never on wire. The English Setters are of Ryman and Pinecoble and Old Hemlock bloodline mix. We are one of only a handful that have Ryman Bloodlines. We can also e-mail pictures if you would prefer. We have numerous references upon request. We have dogs in 25 states and Canada. Our setters are registered with the FDSB.I own the Sires and Dams.They are very friendly and have been socialized with both adults and children. We only have two to three litters per year. If distance is a problem we are willing to either ship or meet you partway. (This may incur additional cost). Thank you for your interest in our website. For more information call either (320-493-7974) or (320-533-1350) otherwise e-mail to cmclair65@gmail.com Thank you for interest in our Setterland field bird dogs hope to hear from from soon. We have litter on ground whelped June 10. Bell's last litter.Northern lakes Bell and Neptune She had a litter of 8. Six are left.
Hunting Dog Breeds Raised
English Setter
Breeder Contact Info
Our Pedigrees
Testimonials (5)
Submitted by: Anthony Diaz on Jul 14, 2017
Two years ago I contacted the breeder and asked her and told her that my English Setter of 11 years was dying. He had cancer and was put down the day before. I was a wreck and I asked her if she could help me with the dog. She had two of them; one was a tri-colored male and one was a black blue Belton. She met me in Detroit Lakes and showed me the dogs and I immediately took to my tri-colored male Jack and we've been best friends ever since. Amazing temperament absolutely amazing temperament the dog is so full of love so caring so smart. Jack walks off leash with me all the time in public and community and he listens to commands just a brilliant dog and I wouldn't trade him for the world. I'm extremely grateful for the dog I was sold. Jack's my best friend and he sure did fill some big shoes when would he died. I highly recommend this breeder the dogs temperaments are amazing I don't hunt with Jack but he's he's a complete therapy dog I love him to death amazing family dogs great with children just a great dog.
Submitted by: Kila Butler on Feb 18, 2013
I just bought a young male called twister from Clara 4 days ago he is exceptionaly smart dog. She has done a great job with these dogs. Twister is doing great in just four das he has shown me he is very trainable and leans very fast. I would recommend a setterland setter to anyone! I can't say enough good.
Submitted by: Doug & Jana Decker on Jan 03, 2013
We purchased a male English Setter from Clara this fall after losing our 12 year old English Setter in a tragic accident. "Chester" is a very lovable, compassionate dog and has filled a great void in our lives. We have not yet used him for bird hunting but may opt to do so in the future. Clara has done a wonderful job of socializing the pups and Chester has adapted well to being around children and adults. He is also an excellent traveling dog. I would definitely recommend Clara as an excellent source if you are looking for a quality dog!
Submitted by: Lori Parmenter on Sep 23, 2012
My husband and I got a female setter from Setterland Setters almost a year ago after a very bad experience with another breeder. She worked with us very much so we felt comfortable purchasing the puppy (Belle) from her. One of the best decisions we made! Belle is a very sweet and loving dog when she is in the house, but when she is hunting, she is very birdy. She went out for her first hunt last week and put up 2 pheasants and 2 grouse. Not bad for just over a year old.
Submitted by: Paul Szargowicz on Sep 20, 2012
I have two males I purchased from this breeder 1 eight years ago looking to replace amale rymen pine cobble dog that had brought much joy and passed a friend told me to check in Minnesota cause that was the only place I would find a dog that was close to what I had genetically well I'll called around searched the Internet and I didn't find a fit for me then browsing one Sunday night isaw and advertisement for what' was upland kennels and I purchased a male orange belton
From Larry and Clara and my father and I have enjoyed the dog since I picked the pup up at the airport gentlile close hunter mindful dog great disposition perfect forme and my father who is now 81 last January I purchased Chester another male pup now called setter land setters cause Larry her husband had passed she changed the kennel name now I have to male setters from Clara and if I had room I d buy a female pup but I don't Clara is great person my dogs are beautiful together a dream to hunt over mind you my dad is 81 now and these dogs are great steady at Piont even on stocked birds pheasants and wild woodcock and grouse call me with any questions Clara can give my number my email prs66@msn.com these pups should be in the running if your looking for a puppie setter for pet or hunting companion mine are family members
Submit your testimonial