Rock Dove Publications - English Pointers - Minnesota English Pointer Breeders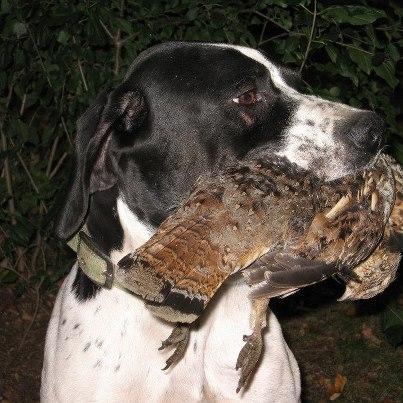 About Rock Dove Publications - English Pointers
Rock Dove Publications - English Pointers
Rock Dove Publications (
www.rockdove.com)
periodically makes English pointer puppies available for purchase.
*Note - See first video below regarding an upcoming litter with Polished Arrow (Lost Arrow's litter-mate) and Guard Rail Spirit. You can have a granddaughter of Hall of Fame Champion Guard Rail! Pups will be available April 9, 2013.
Two Females still available $550.00 Each. $200.00 deposit to hold pup. Selection will be based on order the deposit is received. Puppy must be picked up by buyer or representative.
All dogs are highly socialized and from great hunting stock. These pointers love the water and are natural retrievers. Currently a great hunting and sharp looking male named Lost Arrow is available for stud. Lost Arrow (pictured above) is a strong six-year old (69 lbs.), with a stylish point, and is frequently used in pointing seminars and various public presentations. His dam had strong Guard Rail, and his sire strong Elhew. Be sure to visit Lost Arrow's facebook page where you can see him at work. Click on the site link - and after clicking on facebook page (just scroll down).
Stud Fee $500 pending approval
.
Dr. Tom Rakow - the son of a WI houndsman (Bob Rakow) has worked with all kinds of dogs for forty plus years, and authored numerous dog and outdoor-related works. These works include:
Devotions for Bird Hunters
(Editor),
Devotions for Dog Lovers, Raccoon Hunting Basics and Beyond, Raccoon Hunting Questions (Audio), Devotions for Hunters and Anglers, Hunting and the Bible, Hunting Arguments: Biblical Responses to a Loaded Issue,
and more.
First video below shows Polished Arrow (Litter-mate of Lost Arow) retrieving from the water. Polished Arrow is a real hunting and retrieving machine! She is currently (12/2012) bred to Guard Rail Spirit (the son through the modern technology of AI) of HOF Champion Guard Rail. Pups are expected around the first and second week of February 2013. The pups will be ready to go 8 weeks later. This is truly a unique opportunity to own a grandson or grandaughter of the famous Guard Rail. Contact Rock Dove Publications www.rockdove.com for more information. Or, e-mail tom@rockdove.com
http://www.youtube.com/watch?v=YND2TN7n_hA
A brief look at Polished Arrow and Guard Rail Spirit
http://www.youtube.com/watch?v=u-K4Nyn3w64

Video showing Lost Arrow at a mens event in Fillmore, MN on 12/7/2012 http://www.youtube.com/watch?v=12JcGzpeY1g
Lost Arrow retrieving from the water
Lost Arrow (my field name is "Hunter") an English pointer retrieving ...
Lost Arrow acting out the parable of The Lost Sheep (found in Luke 15). He was a little distracted by a French poodle in the second row!
Lost Arrow (the English pointer) performing the parable of the Lost ...
Hunting Dog Breeds Raised
English Pointer
Additional Services
Stud Services
Breeder Contact Info
Testimonials (0)