Muddy Goldens LLC - Minnesota Golden Retriever Breeders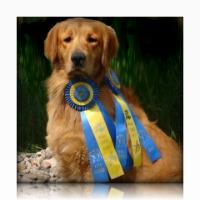 About Muddy Goldens LLC
AKC GOLDEN RETRIEVERS Our Dogs have a Genetic Advantage. Invest in your Dog, not your VET. Our adults are screened to assure you quality lines: We have certified our dogs' HIPS through the Orthopedic Foundation for Animals (OFA). We certify our dogs' ELBOWS through the Orthopedic Foundation for Animals (OFA). We have certified our dogs' HEARTS through the Orthopedic Foundation for Animals (OFA). We have certified our dogs' eyes through the Orthopedic Foundation for Animals (OFA). We use DNA Golden Retriever Disorder Panel to eliminate the following diseases in many golden retrievers. Degenerative Myelopathy (DM) Golden Retriever-PRA 1 (GPRA1) Golden Retriever-PRA 2 (GPRA2) Ichthyosis (Golden Retriever Type) Ichthyosis 2 (Golden Retriever Type) Muscular Dystrophy (Golden Retriever Type) Neuronal Ceroid Lipofuscionsis (GR) Progressive Retinal Atrophy (prcd) We give our dogs a Genetic & Nutritional Advantage. A Muddy Golden is a high-quality investment that will bring their families many years of enjoyment, they are very versatile dogs that can wear many different hats so to speak. Whether you are in the field hunting or at a nursing home doing Therapy work or maybe a nice nap, this dog can and will be by your side asking you what you want him to do next.... Our dogs are first and for most our family pets, we strive to better and enhance the breed to be workable, happy, healthy and knowledgeable pets that like to learn. Golden Retrievers excel in obedience, hunt, agility, service, therapy, rally and dock diving. All enjoy having a purpose but one of their true loves are being part of a family. Kids are Christmas every day to a golden. You will have to keep their minds busy, or you will have mischievous golden looking for fun or troubles with toilette paper shredded everywhere. Please visit our website for information on our upcoming litters. 30 month guarantee , buyers agreement, vet checked, raised in home with a ton of love and potty training.
Hunting Dog Breeds Raised
Golden Retriever
Breeder Contact Info
Our Pedigrees
Testimonials (6)
Submitted by: G Grant on Aug 01, 2019
Hi Cindy! We wanted you to know how much we love and enjoy Maggie (Orbit). She has been such a wonderful addition to our family. She is smart and very sweet girl. She is the most loving Golden we've ever met. We wanted to thank Muddy Golden's for providing us with such a great companion!
Sincerely,
The Grant Family
Submitted by: Tracey Donegan on Jul 18, 2016
Moose is a 4 year old Golden Retriever I purchased from Cindy Almgren at Muddy Meadows in Minnesota. Cindy made all the arrangements to ship Moose from Minnesota to CT. The transfer was absolutely perfect. We picked Moose up at the airport in CT, and from that moment on our lives changed. Moose is the best Golden retriever we ever had. He is an amazing dog. He is obedient, gentle, and incredibly smart. Whenever people see him in public they tell me he is the best looking dog they have ever seen, and I agree. I feel blessed to have Moose, and thank Cindy for breeding such a pure line. I hope Cindy breeds Golden's forever, as I never want to be without a Muddy Meadows Golden retriever.
Submitted by: Mere Frost on Apr 29, 2016
Cindy Almgren is a very conscientious, dedicated and special breeder. I placed my trust in her and she has not failed me. Cindy has a way of bringing very special people together with her pups! I have never dealt with any other breeder who takes such care. I have two of her Goldens. Summer who will be three in November and Thunder who will be one year old this May. No health issues, highly intelligent, great personalities, quick learners, very gentle, loving and social. You won't be disappointed. Well started in potty training. Huge plus! I highly recommend Muddy Meadows. Thank you, Cindy Almgren. You are a very special lady....and by the way...these pups are like potato chips! You simply can't have just one!
Submitted by: gary & Pam Bacahara on Aug 12, 2013
We got Tango 9 months ago and couldnt be more pleased with him,,he is our 5th golden and he is a true gem,,extremely athletic
Submitted by: Shahla TIPP on Jul 07, 2013
We have 2 Goldens from Muddy Meadows. One that is 6 and one just turned a year, Jessie and Mylee. They are the best!
I would highly recommend them.
Submitted by: Susan Lamb on Feb 01, 2012
The Algrems have wonderful goldens. Our Abbie-Rose is almost two and she will soon begin her therapy dog training. She is an absolute beauty. Her love for children, her spirit, and her personality are amazing. We are so happy with her, Abbie is our 4th golden and is by far the smartest golden we've had. She is extremely cleaver and learns quickly, and the only thing is, she still think she's a 7 pound pup and sits in our laps all the time. We highly recommend a golden retriever from Muddy Meadows!
Submit your testimonial