MN Pointing Labs of Center City - Minnesota Labrador Retriever Breeders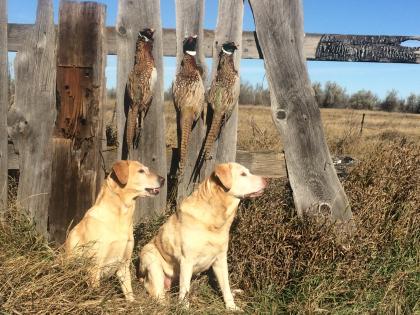 About MN Pointing Labs of Center City
We're excited to announce the recent whelping of our Vaider/Bella breeding. Bella whelped 6 puppies, 4 males and 2 females. Puppies will be ready for their forever homes on June 24th. Call us today to reserve your puppy from this high quality breeding.
Sire:  4xGMPR Cashman's Risky Raider's in Vaider MH
Vaider hails from
Cashman Kennels
, in Elko, MN.  He is a natural pointing male who holds an American Pointing Lab Association 4xGMPR title as well as an AKC Master Hunter title.  He excels not only as an upland hunter, he's also dynamite in the duck blind and/or boat hunting fowl.  He is calm and steady and handles blind retrieves like a pro.  He has the diversity and strengths that most avid hunters are looking for.  Vaider, like his father Raider, is an outstanding all-around upland and water fowl hunter.    Additional information regarding Vaider and his legendary father 
Raider
, can be found by clicking 
here
.
Health Clearances for Vaider are as follows:               
AKC: SR62574601                                                                                     
DOB:  6/6/2010                                                                                           
Weight:  70lbs                                                                                             
Hips:  LR-198663G24M-VPI                                                                    
Elbows:  LR-EL55283M24M-VPI                                                           
Penn HIP:  DI 0,33 top 90% for Labradors (excellent rating)
CERF:  LR-347840                                                                                    
EIC: Clear by Parentage                                                                            
CNM:  Clear by Parentage                                                                         
PRA:  Tested Clear                                                                                      
RD/OSD:
 Tested Clear         
Dam:  Majestic Miss Lady Isabella JH
Bella is a daughter from our previous breeding between
Baker
 and Hailey.   Like Vaider, she too is a natural pointing, bird finding machine.  She is hunted extensively as a guide dog at
Wings North
 in Pine City and
Wild Wings of Oneka
 in Hugo.  Bella shares many of the same qualities and characteristics of her mother.  She's quite smart, who's easy and loves to train.  Her never give up attitude has saved me many of times on a poorly shot bird.  Her marking ability is something I would never trade anyone.  While upland hunting she covers an entire field in a methodical manner that leaves no tuft of grass left behind.  Her drive and train ability is second to none.  Yet, when her day is done, she's a 52# lap dog in our home.  Her calm temperament is absolutely amazing around our two and five year old children.  Bella is the perfect companion as she loves to hunt, lives to please and is what our family calls a best friend.
Health Clearances for Bella are as follows
:
AKC:  
SR61714701
DOB:
  4/8/2010
Weight
:  52lbs
Hips:  
LR-202823G35F-VPI
Elbows:
  LR-EL58405F35-VPI
CERF  
LR-EYE11291/81F-VPI
EIC:
 Clear by Parentage
CNM:
  Clear by Parentage
PRA:
  Tested Clear
RD/OSD:
  Teste
d Clear
Litter Pedigree Information can be found here
Hunting Dog Breeds Raised
Labrador Retriever
Breeder Contact Info
Testimonials (0)