Minnesota French Spaniels - Minnesota French Spaniel Breeders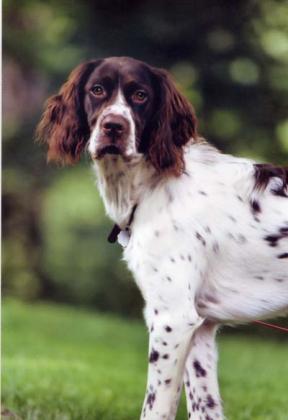 About Minnesota French Spaniels
Minnesota French Spaniels is a family owned and run operation. We raise dogs that are hunting companions and family pets. All of our pups are raised in our home up to six weeks of age to ensure that they receive proper socialization. At that time they are moved to our kennel.

We involve our clients through the entire maturation process by sending weekly jpeg pictures and videos to our clients via e-mail. We invite folks to call and make an appointment to visit our kennel.

The French Spaniel is sometimes described as a "comfort dog," That refers to the fact that they hunt at a comfortable distance and pace for the foot hunter and are as comfortable in the house as in the field.

The French Spaniel is a proven versatile hunter. Our dogs have been placed all over the USA and have hunted every type of upland bird in the country. While most of our clients hunt upland birds ...some have had success in hunting waterfowl as well. The French Spaniel has also proven that they can do well in hunt tests with many scoring high in the NAVHDA testing program.

Please contact us at pkfish@kmtel.com if you are interested in a pup.





Hunting Dog Breeds Raised
French Spaniel
Breeder Contact Info
Testimonials (3)
Submitted by: Christy Williams on Nov 02, 2017
Paul and his family are wonderful.
My experience dealing with them was exceptional. Great communication!
I am not a hunter so I'm afraid I can not address hunting issues, but my 2-year old Rian (Ellie/Robin) is "always working" on hikes.
He is a spectacular dog - sweet, funny, smart, affectionate, GORGEOUS - and most importantly HEALTHY!
I highly recommend Minnesota French Spaniels. God help me but I'll be back for more (3 dogs and counting).
Submitted by: Tom Neneman on Nov 15, 2009
The French Spaniel is a great family dog and hunting companion. I have hunted and trained many hunting breeds for over 30 years. This breed handles a running pheasant very well. The breed tracks foot scent and still points the body scent. Many pointing breeds today have lost that trait imo. If a dog body scents only it is hard to get a point on birds that run downwind. The breed is seldom out of gun range. Hunts with you and not for itself. The breeder socializes the dog to home living. Easy to house brake. Calm in the house. Loves everybody. Definately great with children. Mine was hunting at 9 months and could be left at home alone with no house destruction. But i must add i have a fenced yard for exercise. i also train on pen raised birds early so a dog matures earlier. Minnesota French spaniel is a good breeder for the breed imo.
Submitted by: Joel King on Feb 26, 2009
I have hunted Brittanys for twenty years and loved them.. I have a French Spaniel from Paul and the dog is beautiful and a hard hard worker.She held wild chukars the last day of the season as a pup.She has matured into the most complete dog I have ever had.She loves to retrieve ducks and has taught me to enjoy that again after I gave it up for the uplands. She hunts deliberatly and with style - all the long way back to the truck.
Submit your testimonial