KMK Shorthairs - Minnesota German Shorthaired Pointer Breeders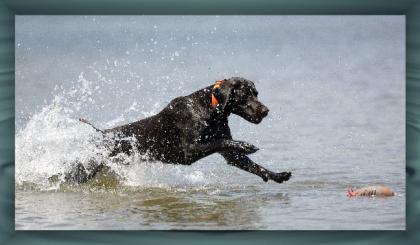 About KMK Shorthairs
- KMK Shorthairs - - Competitive Companions for Field & Show - - Line Bred Greif Dogs - - I have worked diligently to save the old Greif, Radbach, and Wassershling Bloodlines. - They produce consistently great Field and Family dogs. - - I have mosty Solid Liver Puppies and occasionally a couple of Liver & White Patched Ticked Puppies within those litters. -
Hunting Dog Breeds Raised
German Shorthaired Pointer
Additional Services
Stud Services
Breeder Contact Info
Testimonials (3)
Submitted by: Dana Mandeville on Dec 29, 2015
Excellent hunting companions, and incredible temperaments with the KMK Shorthairs. Kitty is always available to answer all our questions regarding training, health, AKC events, etc! We have two that can duck hunt in morning, and then upland hunt in afternoon! Then come inside, and sleep on our laps in the evening! Our Jake is a Versatile Titled GSP, who upland hunts, duck hunts, dock dives (19 feet), AKC Showmanship Champion, soon to be Grand Champion, obedience, rally, agility, canine good citizen, and therapy dog at Adult Living facilities, and Austic kids.
Please contact us for reference, 206/369-4578, mandeville4@msn.com
Submitted by: Rich on Nov 29, 2010
Loved working with Kitty at KMK Shorthairs. We picked up our puppy, Marco, in February 2008. He will be 3 in February of 2011 and is hunting like a champion. Marco has a very mild tempermant in the home. Loving and affectionate and great with kids. He has been a very quick learner. In the field, he has boundless energy. Will range very close to further out depending on the cover and your desire. Fantastic nose, energy and unbelievable points. One of his best qualities.... he is a natural retriever. Since the 1st ball I rolled across the floor when he was a puppy to finding that downed pheasant in the marsh. He out retrieves every dog he has hunted with.... including numberous labs. Great dogs and great breeder. Highly recommend contacting Kitty at KMK Shorthairs.
Submitted by: Ray Johnson on May 29, 2007
A real pro to do business with and provides the best GSP's in the country. For show or hunting, she does it all with quality breeding. Excellent warranty that covers all possible defects that affect the breed. We love our GSP, and know where to go for his partner in finding birds!
Submit your testimonial