Hillfire Kennels - Minnesota German Shorthaired Pointer Breeders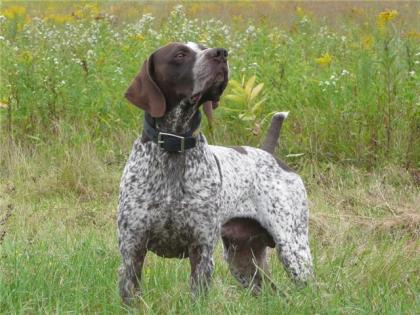 About Hillfire Kennels
We are a full service training/boarding kennel located in south central MN. We train all pointing breeds from start to finish for competition and hunting. In addition to training, we raise german shorthair puppies, started, and finished dogs. We also offer GSP stud services. Shipped semen available

Hunting Dog Breeds Raised
German Shorthaired Pointer
Additional Services
Training, Stud Services, Boarding
Breeder Contact Info
Our Pedigrees
Testimonials (3)
Submitted by: Trent & Alyssa Schafer on Jan 28, 2013
Griffin became a part of our family in September 2011. Griffin's Dad is Duke from Hillfire Kennels. Griffin is currently a little over 1.5 years old and weighs 68lbs. Griffin was easy to train, in the house and in the field. At 6 months old Griffin went on his first South Dakota pheasant hunt and loved every minute of it. We were very impresed with his drive to hunt. Griffin does a great job pointing and retrieving. We have had numerous compliments about his hunting abilities. When Griffin is not hunting he can be found swimming in the lake or cuddling on the couch with Mom & Dad. Besides being a great hunting dog, he is great around company and children. We love our dog, and will buy future dogs from Wes at Hillfire Kennels.
Submitted by: Darrin Bode on Mar 13, 2010
I bought a female pup from Wes. We brought her into our home and potty trained very easily. Her training came extreamly naturaly. Retreived and marked blind at a young age. She had incredible prey drive and was hunting and pointing wild birds reliably at one year old. She has a great personality, gets along great with other dogs and company. I will be get my next dog from Wes again.
Submitted by: Kurt Andersen on Mar 07, 2010
I purchased my German Short Hair Pointer, Mel, from Wes last fall when she was almost 2 years old. Wes from Hillfire Kennels was very helpful and laid back in my buying process. He does very well with his dogs and training them.
When I visited the kennel, he took me out to his training field to show me how Mel worked in the field. I made multiple trips to Hillfire and talked with him on the phone numerous times before I decided to purchase Mel. He showed me each of his dogs he had for sale at that time and took each of them out to the training field so I could see which would suit my hunting style best.
Wes also made sure to show me which commands he trains his dogs with so that the transition for the dog would be easy to adapt to in the field.
Mel is a great hunter and a great family and house dog for me. The first time out in the field with me, Mel exceeded all my expectations. It was because of Wes' training ability and knowledge and how he had worked with Mel. As good as Mel is in the field, she is an even better house dog. She gets along with other dogs well and is great with meeting new people. Her laid-back temperament makes her a great house dog for me. I am more than satisfied with her and highly recommend Wes for future dog and training purchases.
Submit your testimonial