Hi Lo Ranch Kennels Pointing Labs - Minnesota Labrador Retriever Breeders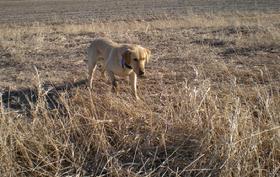 About Hi Lo Ranch Kennels Pointing Labs
We are a small Kennel in the heart of south west Minnesota.We use all of our dogs for hunting and we introduce our dogs to all aspects of life. We live on eight acres of land in the Minnesota River valley. We produce Quality not Quantity. We have some of the best blood lines in the USA. Our dogs have great dispositions in the field and at home. We appreciate you taking a look at our web site.
Hunting Dog Breeds Raised
Labrador Retriever
Additional Services
Stud Services, Birds for sale
Breeder Contact Info
Testimonials (4)
Submitted by: Jason G on Oct 31, 2013
I got my puppy tucker only bout three months ago but I was amazed at how good of a dog he been. He is from goose and BRI litter. He is extremely smart, loves water and to retrieve. At 4 months old took him out opening pheasant hunting in which I did not expect a whole lot from him besides running around and have fun but to my surprise I got to see my four month old pup kick up two birds and wasn't hardly ever at my heals. Luke was a great guy. Shows a lot of passion about his pups. Saved me two hours of driving when I went to get my pup. When the time comes for another pup I will be talking with Luke and going back with hi lo ranch
Submitted by: Steven Kvam on Mar 26, 2012
Four and a half years ago, I got my dog Annie from Hi Lo Ranch. She has been a great dog from the very beginning. Excellent field hunter and even better in the water. She is a very smart dog and also works harder than any dog I've hunted with.
Submitted by: Pires Family on Oct 25, 2010
Our 10 month female black lab (Proenca) came from Hi-Lo ranch and has turned out to be an exceptional dog, both in and out of the field. Her instincts are more than great; she is already proving to be a natural hunter. We didn't expect that a young dog at 10 months old would be this good at retrieving ducks, geese, and pheasants. Our family could not be happier!
-Pires Family Mukwonago, WI
Submitted by: art christenson on Apr 02, 2009
I have had a few dogs in my time. Hi Lo sold me a female lab that is all you could ever ask for in any dog. Smart, gorgeous, and personality plus.
Submit your testimonial