Devata German Wirehaired Pointers - Minnesota German Wirehaired Pointer Breeders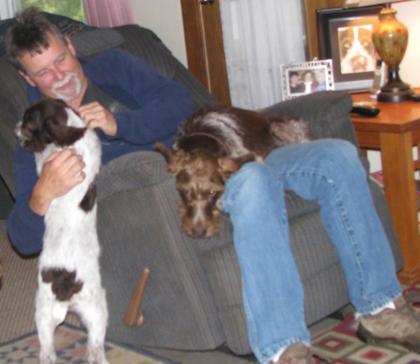 About Devata German Wirehaired Pointers
I very selectively and occassionally breed German Wirehaired Pointers with the foremost though of my motto. My motto is "Instinctive Hunting Companions". I place these dogs to dedicated homes that want a life companion.
Health certifications are standard as well as guarantee of health on the dogs leaving my home. As the breeder, I will be your contact for the life of the dog and expect to hear from you regularly. If you are looking for a life long canine companion or just information about the breed including health issues commonly seen in this breed, feel free to contact me. This breed is not without health concerns and any breeder should know what they are.
Member of:
German Wirehaired Pointer Club of America
Twin Cities German Wirehaired Pointer Club
German Wirehaired Pointer Club of Illinois
NAVHDA International
By visiting my website you will find a lot of information about the breed, what health concerns it has, some statistics on the health testing and information about vaccinations.
GWP's are first and foremost a hunting breed, as the breed standard calls it a .... hunting dog." However, hunting ability is not the only reason for breeding a dog, as they ARE hunting dogs.
They need to look like a GWP, having the traits that make them a GWP as well as be sure the parents are either clear of health issues or be able to show that both don't have the same health concern and explain how that specific trait is inherited. I've spent a considerable amount of time learning genetics as you can't change what you don't know HOW it is created.
I do participate in AKC and UKC conformation dog shows; don't let that fool you. These are dogs very capable of hunting all day. I choose to exhibit my dogs as they are great specimens of the breed. All breeders should strive to create the perfect specimen based on the breed standard of that specific breed - there are no excuses for not.
Puppies available at this time.
Hunting Dog Breeds Raised
German Wirehaired Pointer
Breeder Contact Info
Testimonials (0)