Creekside Labradors - Minnesota Labrador Retriever Breeders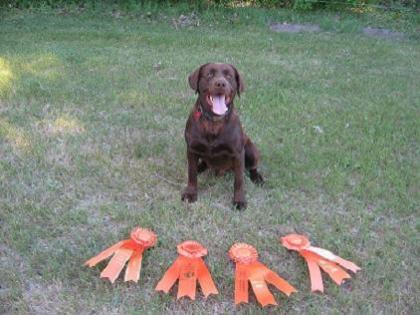 About Creekside Labradors
We are a private breeder of AKC labrador retrievers. We are not a kennel, we occasionally breed our family pets so others can experience the joy of owning a wonderful companion. Our dogs are great pets as well as excellent hunters. Our stud Creekside's Captain Silver JH earned his Junior hunt title at the age of 13 months. Our dogs have natural talent for bird hunting and have passed it along to their puppies. The pups are highly trainable and eager to please.
Hunting Dog Breeds Raised
Labrador Retriever
Breeder Contact Info
Testimonials (2)
Submitted by: Paul Erickson on Sep 20, 2013
Creek side is one of the best breeders that I have ever bought a pup from. The breeders are knowledgeable and very helpful. They can work with you if it's your first hunting dog or you have had many. We have had our chocolate lab for almost three years now and he is a great hunter and gets along great with our child and other dogs. I will never buy a pup from a different breeder.
Submitted by: Galen Janson on Apr 25, 2011
I bought a chocolate lab pup in early April from Creekside Labradors, Peter and Jennifer Smith. It was a birthday gift for my youngest son! What a great experience! The Smiths were so helpful with instructions on how to care for the puppy, and the puppy is a wonderful companion. Our puppy is such a quick learner and a lovable member of the family. Creekside Labradors is a fine example how animals should be nurtured and raise. Thank you! Galen Janson
Submit your testimonial