Beaver Creek Farm - Minnesota Spinone Italiano Breeders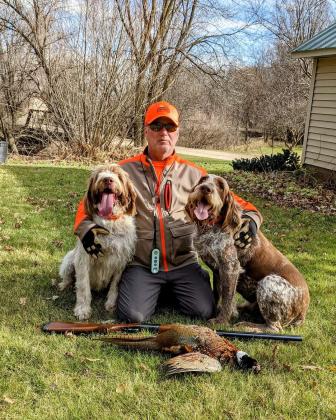 About Beaver Creek Farm
We raise AKC Spinone Italiano's. We live on a 60 acre farm in SE Minnesota, with great upland bird hunting opportunity for our dogs. Our Spins love to retrieve and swim in our pond & creek on the farm. Our dogs are like family and are loved and socialized daily with other dogs, kids, family & friends. We are members of our local, LeRoy Rod & Gun Club, Three Arrows Hunting Preserve & North American Versatile Hunting Dog Association. Also an AKC Accredited Kennel. Please email or give us a call, if you'd like to talk Spinone! Sincerely - Rick & Denise Rannells Home Phone(507)-561-3631 beavercreekspinoni@gmail.com https://www.facebook.com/beavercreekspinone/
Hunting Dog Breeds Raised
Spinone Italiano
Breeder Contact Info
Testimonials (4)
Submitted by: Kristen Todd on Aug 22, 2018
We added our sweet spinone girl to our family almost two years ago. She is everything we had expected from our research of the breed. We donít hunt with her but we wanted a perfect family dog and we certainly found one. She has never met a stranger, just loves everyone. From the day we got her she was very gentle with our children and she settled into our family perfectly. She is great with other dogs and our cats. In fact, we foster dogs and sheís been the perfect foster-sister role model. We walk her daily but she isnít high energy, doesnít require a ton of activity, and is always ready for a nap when we are. She really is a good girl and we are completely smitten with her.
Submitted by: Marcy on Aug 22, 2018
Rick and Denise produce fantastic well rounded Spinone pups. She did a great job helping us pick out our male and getting him safely flown to Charlotte. Can't wait until we can get another Spin boy!
Submitted by: Lynn on Aug 22, 2018
Beaver Creek is an excellent Spinone breeder. Abe our 14 week old Spinone is a smart, engaging dog that is a great house dog & soon to be hunter.
Submitted by: Chris Romanetz on Aug 22, 2018
We absolutely love Murphy!! He is just over 15 weeks and seriously the best pup we have ever had. He is so much fun. Beaver Creek has been fantastic with any questions we have had. They sent us with a nice puppy packet when we picked him up. We will definitely be return customers!!
Submit your testimonial