autumnfiregundogs - Minnesota German Shorthaired Pointer Breeders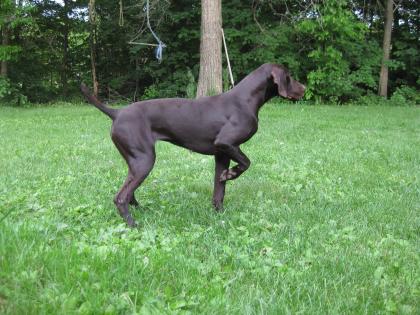 About autumnfiregundogs
We breed Hillhaven Hustler bred German Shorthaired pointers selected for natural ability, calmness and trainability. We do AKC hunt testing on most of our breeding stock. Our dogs are bred for foot hunting bird hunters and family dogs. We occasionally have puppies and started dogs available. We do very limited training and seminars.
All of our breeding stock is tested In AKC hunt tests and hunted in fall bird seasons in several state on various bird species. All are OFA good or excellent and all puppies are gauranteed for life.
At autumn Fire puppies are our business. They are not a sideline to add a little income to a traiing kennel or shooting preserve. Our litters are carefully planned and bloodlines researched .We do not sell dog food or other dog related product and will not endorse a product for personal gain. Puppies come first at our kennel. We We believe it is critical for puppies to have interaction with humans from a very early age, For this reason All AutumnFire Puppies are born in The warm friendly environment of our attached garage . We do the BioSensor program on all puppies and socializing several times daily,also noise conditioning. Puppies are fed a performance diet. All medical work is done by a licensed vet. This includes tail docking, dew claw removal, health checks, shots and worm medication. Our puppies know our voices before their eyes are open. they are handled several times daily and like being held they run in the field and are allowed to explore and make mistakes . We shoot blank guns and shot guns before feeding. This gives them a distinct advantage over kennel born puppies who have little if any human contact other than feeding once or twice a day. What they lose in the whelping box is never regained. They will accept training easier and retain it better they score higher on apptitude test and are generally healthier. Field trialers and other people in dog competitions are realizing this.
All of our puppies are sold with permanent registration we do not restrict or charge extra for breeding rights. We also do not require you to compete for a title that is of no value to you, expensive and only promotes the kennel. Should you decide to do this we would appreciate it and give you all the support we can, but it is not a requirement. We feel when you by a puppy it should be yours to do what you see fit .We are, however, strong advocates of spaying and neutering and hope new owners will use discretion. Dog breeding, done right is a tough, expensive game. Spaying and neutering at a early age eliminates many health risks connected with reproduction in both sexes. We do not gaurantee our dogs as breeding stock.
We will have puppies available in April and August of 2014
Meet the parents at your convenience.Call for an appointment.
Consider Autumn Fire for your next companion / hunting dog
Connie and Jerry Hills AutumnFire Gun Dogs
Hunting Dog Breeds Raised
German Shorthaired Pointer
Additional Services
Stud Services
Breeder Contact Info
Testimonials (0)