Solitaire Kennel - Michigan Epagneul Breton, French Brittany Spaniel Breeders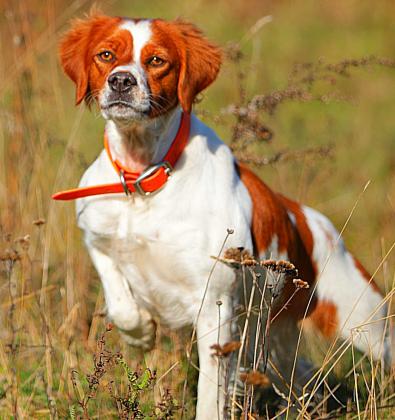 About Solitaire Kennel


A small kennel in the upper peninsula of Michigan, went grouse hunting with a friend and his dog ten years ago, the hook was set. I am having a lot of fun with these dogs!!,My first EB, now 10 years young, Famas Bull Pup De Solitaire OFA good,AY negative,my beautiful boy dog,sired by Master Hunter, and champion Vernon De L'Escarbot. Famas taught me all about grouse. My female, Elle Gener Perdix D Solitaire OFA good,AY negative,pairs up beautiful in the woods with Famas.I sent her to Plum Creek Kennel,eight years ago for training, she is high drive in the field, and a well mannered lady in the house. My second boy, GUN,Jyncks De Plum Creek TAN OFA,AY negative, added GUN title to his name after just 6 weekend trials. Jynck's is amazing high drive, great point, and a natural retriever. Olive de Solitaire, now 2 yrs old , has her TAN , and is working on moving up. All my dogs are OFA'd and sable gene negative. please call 906-281-6100 for more information. Thank You

Hunting Dog Breeds Raised
Epagneul Breton, French Brittany Spaniel
Breeder Contact Info
Our Pedigrees
Testimonials (4)
Submitted by: Mark Vermeer on Oct 20, 2019
3 years ago we happened across Kelli and her dogs. After a little communication we took ownership of "Guillaume De Solitaire" call name Gus. He has been an incredible addition to our home and is a splendid hunting dog for my son. The intelligence of this breed can not be appreciated until you live with one. Kelli has bred dogs to the breed standard and If Gus is any indication he is an example of bettering the breed.
Submitted by: Spring Madosh on Sep 27, 2018
Kelly helped us pick out a great pup. We got the puppy at 9 weeks and she never whimpered once in the night from even the first night we had her. She did well taking snuggles from our sometimes overly-loving 4-year old daughter. Markings are beautiful. Great family dog--love her to bits! My husband has high hopes to train her for bird-hunting in the future, but I'll leave that to him. For now, she is a great family dog!
Submitted by: Jim Hanson on Jul 30, 2015
Bought a female pup from Kelly last summer. One of the best dogs I have ever owned. She has a great personality is biddable, fast, and beautiful, She is turning out to be a great hunting dog.
Looking to breed her sometime during 2016.
If you are looking fro a super upland bird dog with beautiful conformation If you are considering purchasing a new pup, I definitely recommend you contact Kelly as a first choice.
Submitted by: Geoffrey Bean on Mar 26, 2012
Pup came to us well socialized and very healthy. We could tell this breeder has devoted an abundance of time with these dogs. Papers and information were well organized. Kelly is truly a professional. Highly recommend!!
Submit your testimonial