Silvershot Weimaraners - Michigan Weimaraner Breeders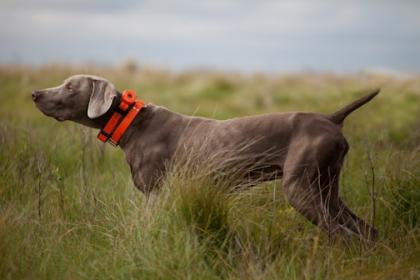 About Silvershot Weimaraners
Silvershot Weimaraners is the home of the Versatile Champion Weimaraner and is dedicated to breeding hard driving versatile hunting dogs that would make any hunter proud to own! We are hunters first and hunt test and field trialers second. The Silvershot gang has been very successful running dogs in field trials and hunt tests. We have finished Field Champions, Master Hunters and have received MH legs on other dogs as well. We have also placed and pointed multiple dogs in All-Breed Open Gun Dog Stakes as well as All-Breed Puppy and Derby field trials. To date, every Silvershot litter has received a NAVHDA Natural Ability Breeders Award. Our last 2 litters received a Breeders Award with all of the pups recieving Prize I's with a maximum score of 112 points. We ourselves have passed a large number of dogs in the NAVHDA testing system and 9 of those were Utility dogs. Out of the 9 Utility Prized dogs, 8 have been Prize I's. We are proud to say that we have 4 NAVHDA Versatile Champion titled dogs and we have some young hopefuls coming up! Silvershot Weimaraners is a small in home kennel and we are dedicated to breeding proven quality hunting dogs. This year we are having two very exciting litter in the spring/Summer of 2015.
Referances are available upon request and we will only sell to hunting homes.
Hunting Dog Breeds Raised
Weimaraner
Additional Services
Stud Services
Breeder Contact Info
Testimonials (2)
Submitted by: Phil Curatilo on Nov 29, 2010
Having a 3 year old male Weim at home we were highly selective in looking for a female puppy companion. Judy was helpful throughout the process, answered all of our inane questions and corresponded with us regularly. The best part was the group of weekly photos sent to us once the pups were born so we could actually see our pup progress from time zero to 8 weeks! First and foremost Judy cares about the dogs (and not the money). So, be prepared to be put through your paces, especially if this will be your first Weim. We drove the 7 hours from Cleveland to Judy's because of the service and knowledge she provided. Also, Judy is widely known in Weim circles and I have yet to come into contact with anyone who has anything negative to say about Judy or her dogs.
Submitted by: Joe Stroup on Apr 04, 2010
Judy and Gerald of Silvershot Weimaraners are the standard bearers as far as breeding quality versatile hunting Weimaraners. The dogs produced in that kennel are among the best of any breed. If you truly want a versatile hunting Weimaraner and/or are looking for a dog to participate in NAVHDA events, look no further because you have found the best! As good as the dogs are Judy and Gerald are even better people and will not steer you in the wrong direction. You won't be sorry!
Submit your testimonial