Silver Dollar Kennel - Michigan German Shorthaired Pointer Breeders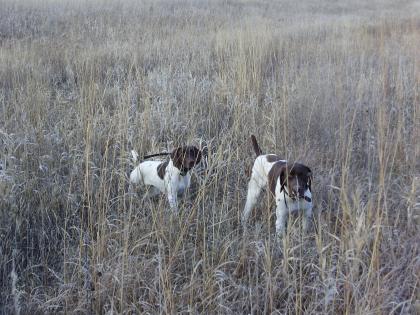 About Silver Dollar Kennel
Selling started and finished German Shorthair Pointers and puppies. Stud service available and training for all pointing breeds.
Hunting Dog Breeds Raised
German Shorthaired Pointer
Additional Services
Training, Stud Services
Breeder Contact Info
Testimonials (5)
Submitted by: steven bucy on Dec 28, 2011
I bought a pup from tom in April took him home then @ six months he took patches back and trained him and what a job he did he has hunted with me 6 or 7 times. The last time we took him to a bird preserve and bought 18 birds we shot 17 because of patches my buddies said it was like hunting with a 4 year old. His intensity level was spectacular so now i have a great hunting dog and friend thanks to toms breeding and training i would recommend tom to any body in fact i already recommended tom to a friend and tom will train him in the spring. Thanks tom from my family to yours.
Submitted by: Elise Erickson on Aug 09, 2011
I was very pleased with Tom's whole setup from the clean kennels the dogs and pups get to sleep in to the way he handles the pups and tells you the truth about each one. I was also very impressed with his finished dog Cash, which fathered my puppy. My fiance and I will not buy a German short-hair from another breeder. Tom's dogs are that good.
Submitted by: Rita and Gene Fleisner on Feb 13, 2011
My husband and I purchased Storm a 4 yr old female with a Master Hunter title from Silver Dollar Kennels. We are very satisfied with our experience with Tom Ruby as the man who owned, raised and trained our dog. Believe me when I say that there are no holes in this dog. Tom has done a marvelous job of training and caring for Storm. She is a pleasure to live with and hunt with. She is a wonderful hunter with class, good manners and beautiful style. We can honestly say, it was a pleasure doing business with Tom.
Submitted by: Isaac Mitchell on Aug 04, 2010
I will be picking up my third finished bird dog from Silver Dollar Kennel this week. I also have a young pup from one of his stud dogs. All the dogs are awesome hunters, with great drive and intelligence. I have had him train my young pup and what an amazing job he did. I will be sending asecond pup to him this week. You can tell by his dogs that he really enjoys and knows what he is doing. I highly recommend Him as a breeder and trainer.
Submitted by: Steve Scharrer on Oct 06, 2009
I've purchased pups and have used one of Toms's stud dogs. He is an honest professional who only breeds proven quality dogs. He is also a good trainer and experienced in all aspects of preparing dogs for AKC hunt test events as well as the hunting field. A good source for pups, started or finished dogs, and training.
Submit your testimonial