RKK Kennels - Michigan Chesapeake Bay Retriever Breeders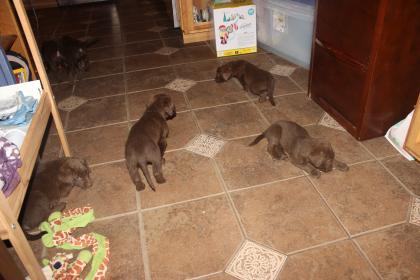 About RKK Kennels
RKK Kennels is based out side the Village of Mayville,Michigan. We work hard to produce quality Chesapeake Bay Retriever that look and act like the founders of the breed intended. Our dogs are standard in size males 75-80lbs and females 55-70lbs. We have had dogs that are larger than what the standard calls for but we strive to stay with the standard. Our dogs are OFA'd min Hips and Elbow's with most of our Stud dogs have Knees and shoulders OFA'd as well. We test all of our dogs for DM. PRA testing is done on those that we where unsure of what one of the parents where. We ALWAYS have 1 parent be a PRA A so that we know that none of pups with ever be effected. Yearly cerf is done on all breeding dogs. Health screens are a MUST any person that says that there dogs are sound and healthy but do not have health screens on there dogs is nothing more than a Back yard breeder out for money. Chesapeake's are not LABS with a curly coat! Our pups come with a 2 year written guarantee on Hips and Elbows 3 years for cataracts and a life time for DM and PRA. Pups will have 2 sets of shots dew-claws removed. Spring and Summer pups will have first month of heart worm and flea preventive. Depending on the time of year we will introduce pups to water and birds. We are always here to answer questions wither they are about our dogs our general breed questions. Take the time to find a breeder that care's about where the dogs that they breed are going. Remember you get what you pay for!
Hunting Dog Breeds Raised
Chesapeake Bay Retriever
Additional Services
Boarding
Breeder Contact Info
Rebecca Kowalski
4050 Lobdell RD
Mayville, Michigan 48744
Breeding quality gun dogs for over 23 years.
Send Email to RKK Kennels
Our Pedigrees
Testimonials (1)
Submitted by: Tom w Vellequette on May 28, 2021
12 1/2 years a go I bought my Cheesie from Rebecca. Duke was by far the best dog I ever had. He wasn't the standard size, he was 125 lbs. and not fat at all. God made him that big to fit all that personality in him. I lost Duke on 5/3/2021 the next day I sent Rebecca a deposit for another Chessie. If you are thinking of getting a Chessie you can't find a better breeder that Rebecca.
Submit your testimonial