Monkeyshine Kennels - Michigan American Brittany, English Pointer, English Setter, German Shorthaired Pointer, German Wirehaired Pointer, Gordon Setter, Irish Setter, Spinone Italiano, Vizsla, Weimaraner, Wirehaired Pointing Griffon, Wirehaired Vizsla Breeders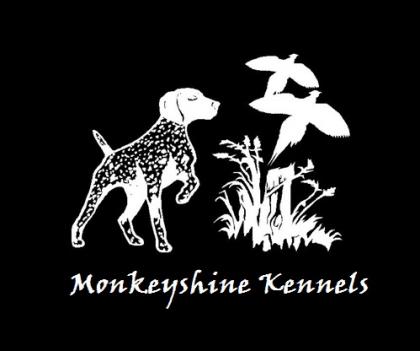 About Monkeyshine Kennels
Monkeyshine Kennels is the country's premier bird dog competition training kennel. Our experienced trainers can handle and train your dog to fit your needs. We train on excellent training grounds and are proud to be one of the only facility that offers two training trips per year, one to North Dakota and one to South Georgia. Both trips offer an abundance of wild birds for your dog to learn to handle and hunt!!!
While your dog is being trained it is treated and cared for as if he or she was one of our own. We do this by not overloading our kennels and trainers so that each dog gets the individualized attention that it deserves.
Contact us today for more information. References availible upon request.
Hunting Dog Breeds Raised
American Brittany, English Pointer, English Setter, German Shorthaired Pointer, German Wirehaired Pointer, Gordon Setter, Irish Setter, Spinone Italiano, Vizsla, Weimaraner, Wirehaired Pointing Griffon, Wirehaired Vizsla
Additional Services
Hunting, Training, Stud Services, Boarding, Birds for sale
Breeder Contact Info
Testimonials (6)
Submitted by: Brandon on Feb 08, 2014
Have a dog with Dan for summer camp. Dan works harder than any trainer I know. Fixed the minor problems with our dog and horsebacks him often. Highly recommended!
Submitted by: Charles Lane on Jan 28, 2014
Dan and April have been training my dog Bubba for the past few years. When they took him on I hoped to do some walking field trials eventually and never thought for a second that he would ever get to the level of the pro dogs on the string. Many times other people into field trial dogs said Bubba was too big or would never be able to hang with the dogs in the hour long trials. Well Dan and April thought otherwise,as they got Bubba into perfect shape, he has 7 points towards his FC title and he ended up running at the GSPCA National Championship! If you want your dog to get to that next level, I highly recommend a summer or winter training program with Monkeyshine Kennels. They treat every dog as if it were their own.
Submitted by: Mark Sullivan on Oct 16, 2013
I had an opportunity to spend time with Dan while training in North Dakota this summer. If you are looking for someone to help develop your dog into a high class bird dog look no further. Dan has the experience, work ethic and grounds needed to make it happen.
Submitted by: Jeff on Jul 27, 2011
Monkeyshine Solo's Agent is my 3rd GSP. Agent is my 1st dog from Dan's kennel, is a little over a year and already showing himself to be something special. Dan is an accomplished and successful professional, with multiple futurity winners and outstanding trial results of handling his own and client dogs. I am just a recreational bird hunter but was inspired by Dan and Agent's sire, Solo, to check out the AKC hunt test game. I'm an amateur at best, but Monkeyshine genetics make me look like a lot better dog trainer/handler than what I am. Monkeyshine dogs are the real deal, both as a family pet and weekend warrior.
Submitted by: Mark Richardson on Jul 01, 2011
I purchased a pup from Dan a little over a year ago. At first I was a little concerned about buy a field trial bred dog but am glad I did Max points great with a lot of style, has enough drive to hunt all day, and has been a great addition to our family. My family just loves it. He is an excellent hunter and has the right personality. I sent "Max" with Dan for two months of training and he did a great job teaching him the right way. This was a great start. His kennels are always clean and it shows that he spends a lot of time with the dogs he is raising and training. I would recommend anyone to purchase a pup or started dog from this kennel. 1st class operation
Submitted by: Donelle Gruszecki on Sep 26, 2008
I am very impressed with Dan's training abilities He is a great trainer and spends a great deal of time working with the dogs entrusted to him. His kennels are clean and all dogs are well taken care of - I would highly recommend him to anyone looking for trainer.
Submit your testimonial