Little Brownies Kennel - Michigan American Water Spaniel Breeders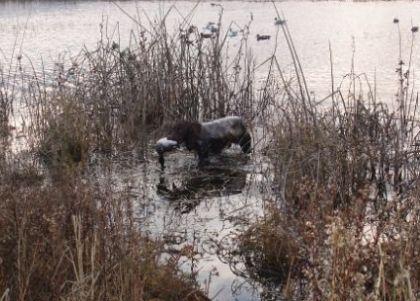 About Little Brownies Kennel

We have been breeding quality family field companions since 1992. Little Brownies Kennel believes in a well rounded dog and pays particular attention to the temperament, health, and field abilities exhibited by the dogs we use in our breeding program. We provide a written health warranty and obtain health clearances from OFA (hips, heart, thyroid) and CERF on all our breeding stock prior to breeding. Our dogs are primarily tested in the field but do occasionally run in hunt tests. Paul is a licensed AKC hunt test judge. For more information about us and the breed visit our Web site (www.littlebrownieskennel.com) or give us a call.
No matter who you buy your AWS puppy from, verify that the stud and the dam have, as a minimum, ALL proper health clearances - OFA hips, OFA cardiac and CERF eyes. Otherwise - RUN AWAY! Watch out for anyone using a cryptorchid stud dog too. If the breeder will not guarantee hips, eyes and heart in WRITING, it is best to look elsewhere.
Paul Morrison
President of the Great Lakes American Water Spaniel Club - Hunt Test Club
Members of the American Water Spaniel Club - AKC Parent Breed Club
Hunting Dog Breeds Raised
American Water Spaniel
Additional Services
Training, Stud Services
Breeder Contact Info
Testimonials (5)
Submitted by: jessica Meier on Feb 17, 2013
Paul and Lynn Morrison are very educated in the american water spaniel breed. when I was looking for my all around dog, they were there for me. I am very proud to be owned by Secret, aka URO1, UKC CH. Little Brownie's I'M Not Telling AKC RN AKC CGC . Secret has a lovely amount of drive and determination but yet can settle down at the right time, she is a retrieveing fool, but loves to sit in your lap at the same time! I cannot wait to get my next AWS from Paul and Lynn! Kudos!
Submitted by: Claudia DiFruscio on Mar 14, 2012
We got our Healey from the Morrisons in June 2011 .We wanted a companion for our 2 year old AWS Whinny. They are great together. Healey is smart, friendly, very athletic and a wonderful
dog to be around. I would not hesitate to get our 3rd AWS from the Morrisons. Wonderful dogs!
Submitted by: mark and lorretta lee on Jan 02, 2012
We got our puppy in June 2011 at eight weeks old.By September 15 2011 Yooper was flushing and Retrieving ruffed grouse.What a great hunting dog.The blood line here hunts right out of the box. Very pleased. Thanks so much!
Submitted by: Gerda Smith on Apr 09, 2010
Bill and I would like to Thank Paul and Lynn at Little Brownies Kennels for providing us a fabulous little female to add to our breeding program. After researching potential breeding stock and a dog with great ability for field work the choice was hands down choosing a Little Brownies pup. In my years involved with water spaniels and knowing other breeders ethics this pup was the perfect fit for our program. I look forward to all this pup has to offer in the field and carrying on our breeding program into the future. We are proud to announce Lil Brownies Cork of Wine Country.
Bill and Gerda Smith
Wine Country American Water Spaniels
Submitted by: Richard Blanco on May 17, 2009
Paul and Lynn are two of the most dedicated individuals of the American Water Spaniel that I have meet. I have had my dog for 4 years and I still call Paul, or Lynn, with questions about training and other issues with my dog. They have always been interested and made suggestions that solved the problem. My dog also had some knee issues that Paul went above and beyond to assist me with. I would recommend Paul to anyone interested in purchasing an all around hunting dog, the American Water Spaniel!
Submit your testimonial