Hifive Kennels - Michigan English Pointer, English Setter Breeders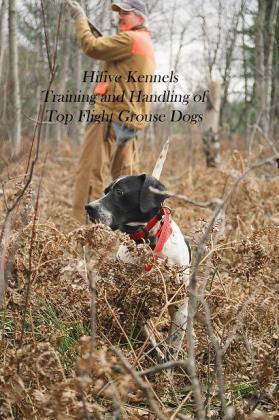 About Hifive Kennels
Here at Hifive Kennels we have been breeding English Pointers and English Setters for the Grouse and Woodcock hunter and field trialer. To prove our program, we have successfully campaigned our dogs on the cover dog circuit against the best and have hunted our dogs across the country on wild birds. Our dogs are truly wild bird dogs that handle from foot. We train gun dog and coverdog/walking dogs. Our program has produced some of the finest hunting and grouse trial dogs in the country.
Hifive Kennels is committed to bring the highest level of bird dog training that one can find anywhere.
During the spring and summer months we are blessed with some of the best Grouse and Woodcock Training grounds in the country. We work these grounds in the early spring, March and April, then again from July until November. Our winter training begins January and runs into March. At this time we work dogs on Mearns quail in Arizona and Bobwhites in Kansas.
If you are looking for someone to work your gun dog or coverdog/ walking field trial prospect look no further than Hifive Kennels.
Please take the time to look over our website. We look forward to hearing from you.
Bruce and Jennie Minard
Hunting Dog Breeds Raised
English Pointer, English Setter
Additional Services
Hunting, Training, Stud Services
Breeder Contact Info
Testimonials (5)
Submitted by: Don Bell on Mar 23, 2022
Looking for a black and white English pointer puppies, male preferably, or white and orange male?
Submitted by: Mary-Beth Esser on Mar 12, 2009
We have dogs that Bruce and Jenny have bred and trained. They do a great job. Bruce just took runner-up at the Plateau Shooting Dog Classic with Fireside Fleetwood and won the Derby with Fireside Drama Queen. He is patient and his skill in bringing out the best in a pointing dog is exceptional.
We're looking forward to the seminar that Bruce will be doing here at Fireside Kennels in May, 09. Contact us for more info. MB and Brian
Submitted by: Kevin Burney on Sep 15, 2008
I bought a pointer puppy from HiFive Kennels and it the best puppy I have ever had. He is bold, intelligent, friendly, and genetically talented. He pointed his first grouse at age 17 weeks, which is something I have never had before. HiFive has a first-class breeding and training operation. I would recommend them to anyone who wants a puppy or finished dog that is ready to hunt.
Submitted by: Dan Ross on Jul 10, 2008
I am on my third Hi-Five dog. The first was a nice hunter who died delivering puppies (at the vet's office). The second is CH Hi-Fives' Wrangler, who has been both Michigan and WI/MN Coverdog of the Year and just gave us a litter of pups to play with, and the third is a young male, Bruiser, who we hope will make a trial dog. Each of these dogs was bought on Bruce's advice, each was trained by him. I know how hard he works because I have tried, and failed, to keep up with him training dogs in the woods. Bruce's wild bird training is the icing on the cake. He is one of the few still training on wild Grouse and Woodcock, and it shows in his results. Numerous people breed good dogs, but Bruce proves his breeding by training the dogs and then going out and winning trials with them. He also wins trials with good dogs bred by others. He does it the "old fashioned way", by hard work and long hours in the woods.
Submitted by: Scott Grush on Jun 29, 2008
Two thumbs up for Bruce Minard and his wife at Hifive Kennels. This past Spring('08) I picked up my first Hifive pup, a female Pointer.
So far she has been an energetic, healthy, bold, tenacious puppy. Bruce had this pup well socialized and ready to conquer the world when I picked her up, no fears or shyness at all.
I personally researched this breeding for two years as I followed Bruce and his dogs on the coverdog circuit throughout Michigan finally deciding on the bitch of my pup.
It was worth the wait and I look forward to many productive hunting seasons over this dog.
I'll be back when it's time for my next grouse finder.
Scott Grush,
Michigan grouse hunter.
Submit your testimonial