Hardwired kennels - Michigan German Wirehaired Pointer Breeders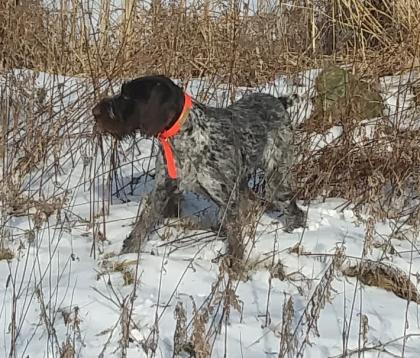 About Hardwired kennels
We are a small kennel that breeds for quality, not quantity. We produce dogs with correct conformation,exceptional drive in the field, and great temperaments. These are true Versitile Gun Dogs that will excell in upland and waterfowl, and are also great family dogs in the home.
Hunting Dog Breeds Raised
German Wirehaired Pointer
Breeder Contact Info
Puppies for sale
Testimonials (1)
Submitted by: Neil Gupton on Mar 11, 2018
Bought my dog from Ed, he runs a quality kennel he had a great litter that I got my dog from and I could not be happier with my pup. He cares deeply about the quality of his dogs, his dog Allie is from great stock, has great gait, look, stance and field accolades to back. My dog, Jax, has been a great addition to the family as well as a great hunter. He started pointing at four months and was on birds at eight months retrieving and pointing like second nature. He continues to grow and is a great dog and everything I could ask for. Ed has been a great contact and frequently emails to check on Jax, he truly cares about how is dogs are doing and wants to make sure that they are doing well. I send him updates and tell him how Jax has been doing and how he has been hunting, Ed is an incredible dog breeder who cares about the quality of his dogs above all.
Submit your testimonial