Emerald Glen Labrador Retrievers - Michigan Labrador Retriever Breeders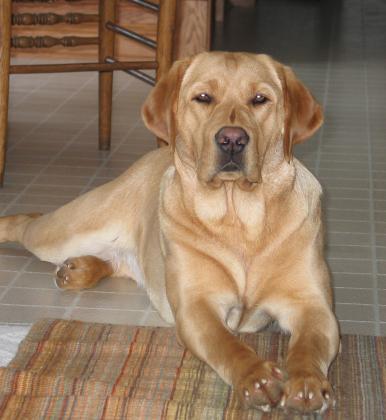 About Emerald Glen Labrador Retrievers
Yellow Lab litter from hunt test titled parents ready Mid-May 2015. Superior gundog pedigree, amazing temperaments and intelligence makes these puppies a joy to own and train. They will make excellent hunting partners and family companions. Casey is a yellow English bred dog, AKC Master Hunter and Conformation Champion. He is one of fewer than 60 Labrador Retrievers in AKC history to hold both titles, and he has three of the others in his pedigree. He comes from champion bloodlines, and has an impeccable, strong English build, with a square blocky head an amazing health clearances. He also has his obedience and rally titles and his upland title as well. Casey has OFA Excellent hips/normal elbows; PRA Clear, RD/OSD Normal,and CNM Clear. Belle is an AKC Junior Hunter and  has a "melt in your lap" sweet personality, and she LOVES her people. She is OFA Excellent Hips/Normal Elbows and EIC and Thyroid clear. She is 75lbs of upland and waterfowl enthusiasm, but is laid back and calm in the house. Belle is a beautiful girl who LOVES to hunt, or just lay by your side. Taking deposits now to hold order of pick. All puppies are $1500 and will be exposed to gunshot, live birds and water (weather permitting). Emerald Glen Labradors is a small hobby breeder located in mid-Michigan, specializing in producing puppies with sound health and amazing temperaments, and the drive to do what labs were bred to do...HUNT! The fact that they are also beautiful is a bonus! We have provided puppies to gundog enthusiasts in Colorado, Pennsylvania, New York, Georgia, Ohio, Indiana, Wisconsin, Arkansas, Minnesota, South Carolina, North Carolina, Tennessee Maryland, Texas, Utah and of course, Michigan. Contact Sandy Nelson at EmeraldGlenLabs@gmail.com">EmeraldGlenLabs@gmail.com or 517-420-3597 or 517-655-1538.
Hunting Dog Breeds Raised
Labrador Retriever
Breeder Contact Info
Testimonials (5)
Submitted by: Tony & yvonne Sahl on Mar 09, 2019
I've have owned several golden retrievers, trained and shown them. Been around a lot of breeders over the years. And I have Never met a more kind, considerate, knowledgeable, informative, careing, and sincere breeder as Sandy Nelson!!!! Her puppies are not only drop dead gorgeous, they are every she claims them to be. Fantastic puppies, well breed and well behaved. Great dogs. Sandy is the very best breeder I've ever personally know.
Submitted by: Bernie ver on Jun 22, 2016
Our Jasmine is now 15 months old and is the best lab we have ever had. She is obedient, non destructive , lovable and great with kids . We have had two labs previously but this one is the best! Thank you Sandy, for giving us such a wonderful experience and great dog!!
Submitted by: Mike Desiree Mcclarren on Jul 23, 2013
We Purchased our lab Srappy 4 years ago and could not have asked for a better dog He is an amazing family dog and is a world class bird dog. If you are looking for an honest breeder who breeds a perfect lab then Sandy and Emerald Glen is the place to go.
Submitted by: SRC on Jan 21, 2013
Our yellow lab is 1.5 years old and is absolutely adorable. Even as a puppy he was the most obedient lab and did not destroy anything. He passed the CGC test before he was one year old and now will appear for Paws for People test so he can be certified as a therapy dog. Sandy's dogs are awesome. Thank you Sandy.
Submitted by: Michelle and Ed Stuck on Jan 01, 2013
Our yellow lab is now 17 months old. We are so happy with our lab and the breeder Sandy Nelson. He is everything she said he would be. The process was easy and efficient and he is a joy everyday. Thank you Sandy.
Submit your testimonial