Autumn Ridge Labradors - Michigan Labrador Retriever Breeders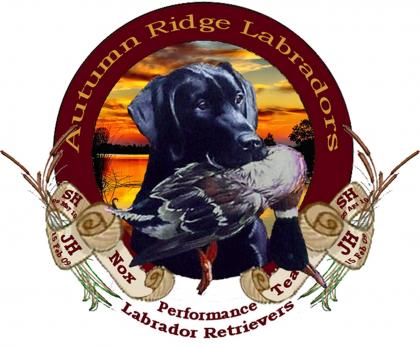 About Autumn Ridge Labradors
Autumn Ridge Labradors specializes in the breeding of Performance Labrador Retrievers and the training of man's best friend. We train all bird hunting breeds as Gun Dogs and all breeds of dog in every level of Obedience Training.
Our dogs have good house manners and dispositions, athletic builds, incredible drive and marking skills, persistance and style.
Thank you for your interest in our Kennel!
Hunting Dog Breeds Raised
Labrador Retriever
Breeder Contact Info
Our Pedigrees
Testimonials (4)
Submitted by: Mandy Peterson on May 11, 2015
If you are looking for a top notch, knowledgeable and family orientated breeder of your next Labrador Autumn Ridge Labradors is where you need to go!! We have been extremely pleases with our experience! Mocha joined our family and is currently 8 weeks old.
Submitted by: Kristine Burmeister on May 10, 2015
What a great experience with Autumn Ridge! Shannon kept us informed about all the puppy details including texts and pictures of the puppies as they grew. Our family was welcomed to their home to visit the puppies as many times as we wanted. This allowed us to see first hand what a quality breeders the Fetter Family is. We had recommendations from several families that had dogs from previous litters that our puppy is no exception. All the attention from their kids, made our puppy feel right at home when she came to our house. Their system for potty training was also easy to transfer. I highly recommend Autumn Ridge Kennels for an excellent experience.
Submitted by: Rachel DeVries on May 06, 2015
My husband and I just got a 7 week old male chocolate lab from Wayne and Shannon. We are so happy with the service we received from them, as well as the quality of dog. Wayne and Shannon are extremely knowledgeable of the breed (standards, training, hunting, etc). Our puppy is already retrieving too! He also came to us about 98% potty trained! They have a great system for little to no accidents in the house. I also appreciated that they have made themselves available for any questions and concerns that we might have in the future. Thanks again Autumn Ridge!
Submitted by: Robert Harvy on Jan 26, 2011
Hey Wayne and Shannon
Is was with hesatation that I took my boy Tug to a trainner, And now that I did I'm really Glad I choose Wayne and Shannon of Autunm Ridge Labradors, Tug was not allowed in the house without being in his crate, and his retrieving skills was less than desireable. After watching Wayne do some training with another client dog I knew I picked the right place for Tug.
In just under 3 months they were able to turm Tug into a pleasant house pet and turn him into a true Hunting Retriever, TUG is 16 for 17 on Pheasants and 10 for 10 ducks.
Thank You
Wayne and Shannon
of Autumn Ridge Labradors
Respectfully
Robert Harvy
Submit your testimonial