Steen Outfitters and Kennels - Maryland Chesapeake Bay Retriever Breeders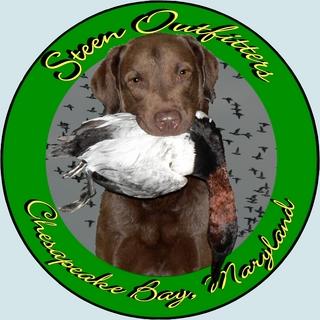 About Steen Outfitters and Kennels
Steen Outfitters is committed to providing an exceptional hunting experience to our clients. The Chesapeake Bay provides some of the most versatile and exciting waterfowl hunting opportunities available on the East Coast. Through our years of experience and top quality resources we strive to make each and every hunt a memory that will last a lifetime.
Steen Outfitters does not only provide waterfowl hunting on the Chesapeake Bay, we also breed Chesapeake Bay Retrievers.
Thor our main stud dog has already sired 7 litters. Thor has mutiple offspring running in hunt test and field trials.
Dogs- Hunting the Chesapeake with Chesapeakes!
CAPTAIN THOR OF THE CHESAPEAKE **, MH, WDQ 415, MJ-N, MJ-R, CGC
Thor, a large dark brown Chesapeake Bay Retriever, is our main gun dog. He trains year round and is involved in many field tests during the off season. At two years old, Thor earned his Working Dog Qualified Certificate (WDQ) from the American Chesapeake Club, his first Master pass, and his Senior title. Right now, Thor holds his AKC Master Hunter title. He finished out his hunt test career in style by passing 4 straight Master Hunt test in a row. Thor is also preparing to compete in some qualifying stakes and dog shows. He is steady to the shot with multiple mark capabilities. He is proficient in blind retrieves. There are no birds too large, retrieves too far, or water too unpleasant for this tough, intrepid Chessie. Thor is a tall and lean Chessie He stands about 26 inches at the shoulders and weighs about 87 lbs.
Thor is available for stud service to approved bitches.
Thor's Pedigree

Date of Birth 07/25/2005
AKC registration # SR28048204
OFA Hips CB-8929E29M-PI Excellent
OFA Elbows CB-EL1291M29-PI Normal
Eye CERF CB-5905 Clear in 07, 08, 09
PRA Clear Optigen
EIC Clear
TEST, TRIALS, and Gun Dog Competitions.
Junior Title 11/17/2006
Finalist Maryland Waterfowler Gundog Championship 12/09/2007
Senior Title 04/12/2008
3rd place Mason Dixon Outfitters Chukar Challenge 02/24/2008
1st Master Pass and WDQ Certificate 05/03/2008
AKC Canine Good Citizen (CGC) 05/18/2008
2nd place Delaware Ducks Unlimited Retriever Challenge 08/24/2008
2nd Master pass Delbay Retriever Club 03/21/2009
3rd Master pass Rappahanock River Retriever Club 04/11/2009
4th Master pass Labrador Retriever Club of the Potomac 05/02/2009
5th Master pass Susquehanna Retriever Club MASTER TITLE 05/16/2009
3rd place in the Qualifying at Back Bay Knotts Island Retriever Club 06/15/2012
Finalist for Maryland Waterfowlers Gun Dog Championship. 12/3/2012
MEDIA
The Baltimore Sun. front page 08/01/2008.
Ducks Unlimited Magazine. March/April 2009 Issue Page 42.
Gun Dog Magazine. August issue. Vol. 28, No. 4. Page 34
"American Gun Dog" With Harley Jackson. Season 5 episode 5 "Outdoor Channel."
Crosswinds Magazine. Front Page, Volume 6, Issue 1 2009.
DOCK DOGS
Thor consistently jumps over 20 feet in Dock Dogs. He Holds his Master Jump Regional (MJ- R) and Master Jump National (MJ-N) titles. He also has 1 Elite jump of 23'3"

BEEZERS RENNISIANCE ROSIE JH, WD
We will hunt with our other Chesapeake Bay Retriever, Rosie, when Thor is taking a break from the action. Rosie is a real sweet heart to have in the blind. While Rosie is smaller than Thor, don't let her size fool you as She is a tenacious retriever in the water and in the weeds. Whether she is busting through ice to retrieve your goose or finding your prize wood duck in thick brush this little girl gets the job done. Like Thor, she is steady on the shot and is also capable of marking multiple birds. Rosie currently has her Junior Hunter title.

CAPTAIN THOR'S GRACIE GIRL MH, WDQ, CGC

Gracie is Thor's daughter from his first sired litter he sired. This little girl has tons of go and many natural birding abilities so we have high expectations for her future as a gunning dog. Gracie finished out her Senior Hunter title at 25 months old. She also earened her first 2 Senior passes and her WDX title before she was 2 years old. Since Gracie skipped Junior she needed 5 senior passes and she handled it in style. Gracie was a very busy little girl in the Spring of 2010. She ran 6 Senior hunt test, a Derby and a Canine Good Citizen test in 10 weeks. Graice passed her first Master Hunt test at 2 years old and finished her title going 5 for 7 with me handling her and passing 4 in a row like her father to finish out her MH title. Graice will now concentrate on field trials. Gracie also has mutiple offspring competing in fiels trials and hunt test.

Date of Birth 04/29/2008
AKC Registration # SR50320703
OFA Hips CB-9519G24F-PI GOOD
OFA Elbows CB-EL1649F24-PI NORMAL
Eye CERF CB-6157
TEST, TRIALS, and Gun Dog Competitions.
1st Senior pass Rappahanock River Retriever Club 4/16/2010
WDX 4/16/2010
WDQ 4/15/2011
1st Master Pass Rappahanock River Retriever Club 4/15/2011
2nd Master Pass Pinelands Retriever Club 6/25/2011
3rd Master Pass Tidewater Retriever Club 3/30/2012
4th Master Pass Rappahanock River Retriever Club 4/14/2012
5th Master Pass and MH title Labrador Retriever club of the Potomac 4/27/2012
Finalist for the Maryland Waterfowler Gun Dog Championship 12/3/2012
CAPTAIN THOR'S LULU BELLE
Lulu is from Gracie's second litter when we bred her to Smoking Scout MH. Lulu will be running in Derbies and then Master test when she ages out of Derbies. After she earns her MH she will by my father in laws gun dog. Lulu is going to be a big dog and she is showing a lot of promise. She has been a pleasure to train and loves to go long. I can't wait till she is ready to step to the line. I am sure she will turn some heads. I plan to get my next stud dog out of Lulu.

Date of Birth 12/19/2011
AKC Registration # SR71219001
OFA Eye CERF CB-EYE6/10F-VPI
Thor in Ducks Unlimited magazine.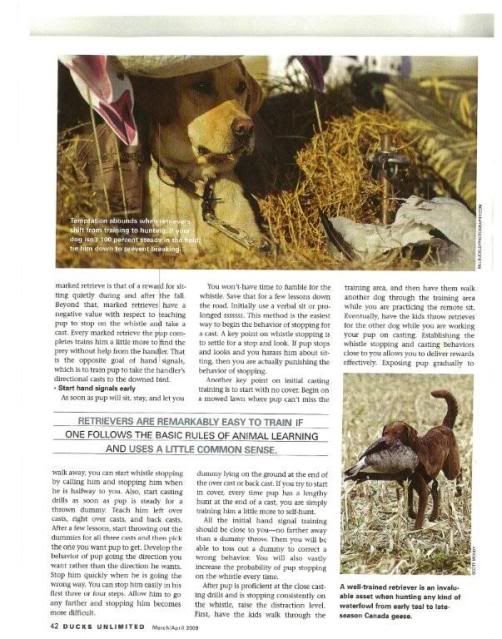 Thor in Gun Dog magazine.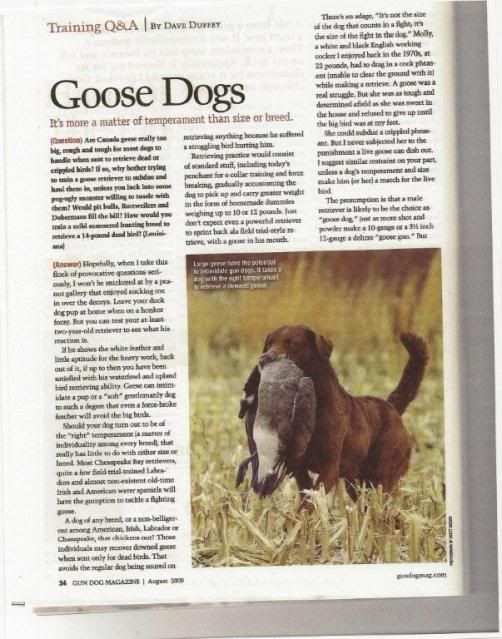 Thor on cover on Cross Winds magazine.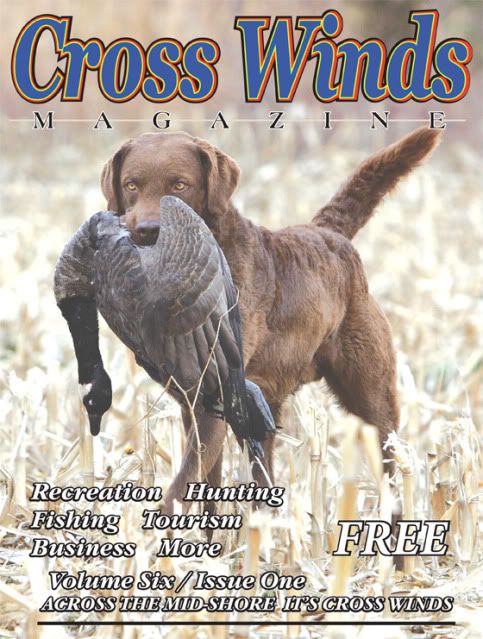 Hunting Dog Breeds Raised
Chesapeake Bay Retriever
Additional Services
Hunting, Stud Services
Breeder Contact Info
Our Pedigrees
Testimonials (0)