Windfall Farm English Setters - Maine English Setter Breeders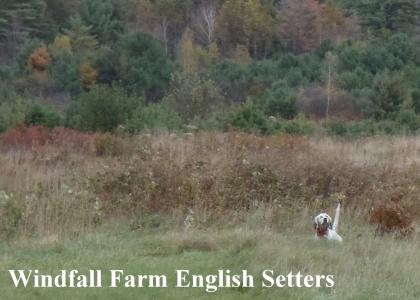 About Windfall Farm English Setters
Field bred English Setters dual registered FDSB and AKC

Quality field trial and New England grouse and woodcock hunting lines.
Popgun (Poppy) x CH Long Gone Porky pups arrived 03/22/2019 a few pups available
Call for information 207-459-0642

Check out pictures of our setters, pups, and hunting fun on our public page on Facebook

http://www.facebook.com/pages/Windfall-Farm-English-Setters/338886139484856?ref=hl

Hunting Dog Breeds Raised
English Setter
Breeder Contact Info
Our Pedigrees
Testimonials (4)
Submitted by: Jamie Bray on Jun 23, 2014
We got a puppy last year from Windfall Farm English Setters and couldn't be happier with our new addition. Her natural hunting abilities are phenomenal and her swift and graceful movements in the woods leave me speechless. I am fortunate enough to train with her numerous times a week with our homing pigeons. My entire family helps train weekly as her skills continue to amaze and fascinate us all. Watching her point never gets old, we are all in LOVE with her! This will not be our last Windfall Farm setter!
Submitted by: Pat Rand on Jun 23, 2014
After losing our first English setter to old age, we definitely wanted another. We searched all over New England and found windfall farms. We visited before the puppies were born. We talked to Paige about her dogs and we were very pleased with Paige and her dogs. We finally picked out our male dog, Hunter is just a year old and is an excellent dog. Listens extremely well and always willing to please. We can leave him outside unattended without a leash or fencing and he stays in his yard. Very easy to train and always willing to learn and please. We couldn't be happier. He loves to hunt also. Does very well with training and wants to please.
Submitted by: BJ Cassio on Oct 17, 2012
I got a Puppy from Windfall and I could not be Happier!!!
now 2 1/2 years old and last season she set up 136 Pheasant and over a dozen Chucker's.
And this past weekend Oct. 14,2012 she set up and retrieved 10 Pheasat's and it was like we had been hunting with out a break in the year.
Submitted by: J.S. Busfield on Nov 19, 2011
Cracker Jack dogs, Her female out of CH.Long Gone Nixon leaves little to be desired on grouse and woodcock,i think she's planning on breeding her soon. I'll pick up one of those pups NO ?'s ASKED!
Submit your testimonial