Marshfield Kennel - Maine German Shorthaired Pointer, Welsh Corgi Breeders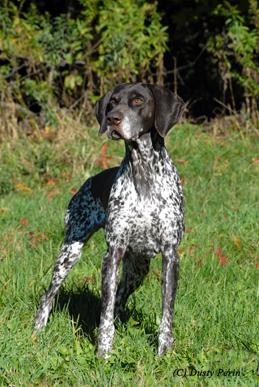 About Marshfield Kennel
Marshfield Kennel is located in an old farm in beautiful Shapleigh, Maine.  We enjoy the best of Maine life and are still driving distance to New Hampshire, Massachusetts, Connecticut, Rhode Island and Vermont.
Both Todd and Amanda are hunters.  Todd has hunted nearly his entire life.  He's passionate about German Shorthaired Pointers and has researched the breed back to it's beginning.  Amanda has been into sport horses her entire life.  She brings a unique perspective to performance-bred animals.  Amanda is a Veterinarian.
We use some of the most basic techniques of breeding to produce high-quality puppies.  Folks have known for thousands of years that if you breed best to best and like to like that you get better results in subsequent generations.  We utilize many of the traditional principals of dog and horse breeding in our program.  We also incorporate a thoroughly modern understanding of genetics to ensure we produce quality from generation to generation.
The most important thing for us is to produce the best hunting dog we can and place it with the hunting family who will most enjoy the kind of pup we produce.  This harmonious match is best for the dog and the people.
Hunting Dog Breeds Raised
German Shorthaired Pointer, Welsh Corgi
Additional Services
Hunting, Training, Stud Services, Vet
Breeder Contact Info
Testimonials (6)
Submitted by: Mike on Jun 11, 2009
Odin is a year old now and we really couldn't ask for a better dog. His temperament and personality are awesome. I took him out to find some planted birds on Saturday and he did great. He loves the water, other dogs, and every person he meets. He is very biddable and leering fast. We are thrilled with this dog. He is such a part of our family now - and if he hunts this fall anything like he did at four months old.................well what can I say? It's really too bad everyone doesn't put as much into the breed and home finding as you do. Thanks for your efforts. They have paid off big time, and we are proud and happy to own such a fantastic animal.
Submitted by: Greg on Dec 06, 2007
I had known and watched Marshfield dogs for quite a few years and was always impressed. Todd has done an outstanding job with some great dogs to make them what they are. When it was time for a new pup I didn't do alot of looking around I called Marshfield to come home with a "B" litter dog. It's almost a year and can't tell you how right that choice was. NAVHDA Natural Ability and first hunting season behind us and this pup is not only becoming the hunting machine that I knew he would be but he's great with kids too.
Submitted by: Erik on Dec 04, 2007
Marshfield Kennels has a very high standard for the selection of dogs and owners. Todd has a very selective process for selecting dogs by researching bloodlines, hips and over all temperment. Todd also has a very selective process in selecting owners. Todd puts alot of thought into where his dogs end up. Todd's goal is to enhance bird hunting for bird hunters through creating great gun dogs. He has helped to enhance hunting for many people, and hopefully will continue for years to come. I have a B litter pup and he is fantastic, he is a great companion and his hunting ability gets more consistent as he gets his feet in the ground. I would recomend Marshfield Kennels to any one looking for a great dog.
Submitted by: Mick on Nov 17, 2007
After researching the German Shorthaired breed in an effort to find my first Gun Dog, Marshfield Kennel quickly climbed to the top of my list due to its highly selective breeding program. Todd and Amanda really care about the success of the breed and their performance in the field. I am a proud owner of a B litter puppy, an exceptional dog who tests well through NAVHDA, consistently puts birds in the bag and is a wonderful family dog who gets along with cats, other dogs and children. I would highly recommend Marshfield Kennels for your next GSP.
Submitted by: Jason on Nov 16, 2007
If grading I would give Marshfield Kennels an A+!
Todd and Amanda are honest and are a pleasure to deal with.
I own two females from different litters and both are from Marshfield. Marshfield's Atalanta (Jenny) and Marshfield's Beyla (Sally). They are very trainable and have tons of natural ability.
If you are wanting a hunting dog that hunts hard and has great looks, I would not hesitate to give Todd and Amanda a call.
Jason L.
Submitted by: Phillip on Nov 16, 2007
Hello
I bought a pup from Todd out of his A litter.his name is Drake if you go to Todd"s website.Todd has always returned my calls and helped with questions I had.which is a sign of a good caring breeder.Drake is a great young dog.he is bold and hunts nice.he will get out to search.he points with great intensity.he has a good nose n tracks wounded birds great.in the water he is relentless in his search.his confirmation is good and I"ve had no health issues with him.in the home he is loving.he loves kids n people and gets along with other animals well.we are very pleased with Drake.Todd puts alot of thought into his breedings.so if ur looking for a nice dog to hunt and love.dont hestate in contacting Todd.Thanks Todd for a great dog.
Phillip.
Submit your testimonial