Autumn Kennel German Shorthaired Pointers - Maine German Shorthaired Pointer Breeders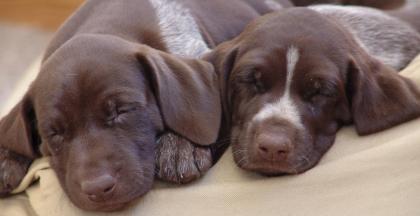 About Autumn Kennel German Shorthaired Pointers
Autumn Kennels - Newport, Maine Litter B due April 25, 2012!! Find a versatile gun dog with heart, desire, cooperation, personality and the same love of hunting that you have. Our small family owned kennel breeds for health, vigor, and tradition. Descended from original Trekker V Grunbaum, Von Sieger Boss, Stradivarius Baroque, and NSTRA Champion DC/AFC 3x NSTRA CH Gambels Oddysey Fritz. Affectionate, talented, healthy, happy puppies guaranteed to provide you with many years of hunting and family companionship.

Call: 207 343-1869 with more questions or requests for pedigrees. We welcome visits to the kennel.

Hunting Dog Breeds Raised
German Shorthaired Pointer
Additional Services
Training, Stud Services, Boarding
Breeder Contact Info
Testimonials (4)
Submitted by: LOUIS DASILVA on Sep 12, 2021
I bought my shorthairs from Al years ago when I lived in MA. My oldest Zeus is sadly gone now but his brother is going on 16 yrs old. Zeus was a great hunter and sadly left me too early. Although Jack was also good but was a much sweeter dog as he still is now as an old man. I now live in GA now (couldn't take the liberalism) but have been unable to find a new shorthair of their quality.
Submitted by: sam favaloro on Nov 15, 2019
we have had our shorthaied pointer for 8 yrs What an addition to our family as well as being an oustanding bird dog great nose great personality. Cant say enough about Alan and the way he treats his dogs Outstanding
Submitted by: Darrell Wood on May 10, 2011
My son, my daughter and I all have GSPs from Autumn Kennels. Theirs are 5 years old and mine is 3 years old. All of them have great noses and are great hunters. They also have great stamina if they get enough regular exercise. These dogs all live indoors and are part of the family and are great with kids. They are very lovable dogs.
Submitted by: Chet Tripp on Apr 04, 2008
I bought my first shorthair Duke,as a started dog from Al and Chrissy. I couldn't be more pleased with the type of Hunting dog and personal cpmpanion that he became. Al helped me to make duke the best that he could be by giving me helpful advice as well as hands on training. Due to them being so helpful I now have another shorthair that I bought as a puppy from them. He also showed the great desire to hunt like Duke. Max was NAVHDA tested at 6 months and passed the Natural Ability test with a Prize 1 110 points.
Submit your testimonial