Cookie Creek Kennels - Louisiana German Shorthaired Pointer Breeders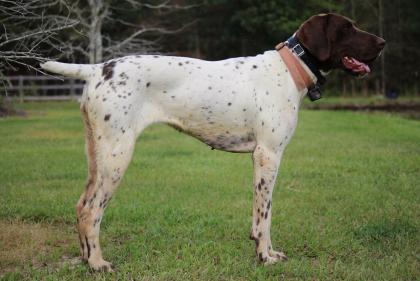 About Cookie Creek Kennels
Here at Cookie Creek Kennels we are raising, training and breeding our dogs. Our current dogs are part of our family. Not only do they hunt with their 'nose up' , they also enjoy riding along to carpool and be lazing on the couch with their nose tucked under. We are a family dedicated to a high standard of selective breeding our German Shorthaired Pointers with the upmost consideration to the health, temperament, athleticism and hunting (prey drive) of our dogs. Our dogs are the all around hunting dogs for you and your family. Just a bird dog? No. With training your pup can do it all for you. Our dogs can be trained to do everything from tracking a wounded deer, retrieving ducks, pointing rabbits-squirrels all while being a part of your family.We raise only 1 to 2 litters a year so it allows us the time to give personal attention to the puppies and momma. We believe when a puppies needs are met it will develop into a stronger, healthier dog in the long run. Within our breeding program all pups are whelped under a watchful eye and carefully reared from day one with quality care and love. -Full Unlimited Registration of puppy is given to new owner. -Whelped and raised in clean and climate controlled environment -Weighed daily to track that nutritional needs are being met -Tails docked, dew claws removed at 3 days old -3 and 6 week Vaccinations, de-wormer administered -Vet checked -All puppies are microchipped and enrolled in the AKC Reunite Program for Life. They also have all AKC registration paperwork, ready for full registration -Full Unlimited Registration of puppy is given to new owner. A mentor of ours says: "ALL of my pups come with FULL-UNLIMITED REGISTRATION. We love our dogs, if you would like one to call your own give us a call at we can make it happen. All pups are ready to leave at 8 weeks. We are located in Greenwell Springs, LA. Cookie Creek Kennels Greenwell Springs, La 1blakehuff@gmail.com 225-615-4285 Litter Announcement Dam Alli's Spintop Cookie had 12 beautiful healthy pups on 11/25/18 Sire Herman Ray Came to Dance White & Liver Pathed/Ticked Deposit $200 $800 at time of Pick Up Available Pups 8 Females 4 Males
Hunting Dog Breeds Raised
German Shorthaired Pointer
Breeder Contact Info
Puppies for sale
Testimonials (6)
Submitted by: Andrew Rushing on Jan 29, 2019
I would highly recommend Blake and his wife Katie to anyone looking to add a GSP to their family. From the first conversation, Blake was able to answer all my questions and reassure me of the puppy buying process. There was never a time I felt rushed and he always genuinely cared about what I was looking for.
Our new GSP is for my 8yr old son, who has been wanting a puppy for some time now.
Thank You Blake and Katie and Cookie Creek Kennels for making my sons dream come true!!!!!!
Submitted by: Edward And Heather Wisenbaker on Jan 29, 2019
My wife and I have owned GSP dogs ever-since we were married in 2012. Heather and her family have owned them as well for many years prior. We also provide services for the San Antonio GSP rescue organization as sometimes these dogs get away from their owners and need to be fostered until located. We discovered Cookie Creek Kennels through a mutual friend and we discussed getting a new puppy as just last year we had to lay our wonderful Hannah to rest after 16 years of loving companionship. Also during her stay here with us we've had an English shorthair pointer and we currently have a Tall German Shorthair male along with a full blooded black German Sheppard female (both registered dogs). Needless to say we know dogs and everything that they entail.
Finding Cookie Creek Kennels and being able to do business with them was an extremely smooth and worryfree transaction. We were able to view all of their pups via internet and some video. We chose from a litter of 11 puppies and I'm very proud to say that I think we got the PICK of the litter!!! Little Gracie is as healthy and charming of an animal and pet; that any could ask for! They took care of all the paperwork and gave detailed up to date information throughout the entire process. Cookie Creek Kennels bloodline is OUTSTANDING! I can already tell that our Gracie will not only make a great addition to our family as a pet but also as a working dog too. Her natural ability to sniff out leaves and sticks and point on rabbits in the yard is uncanny! As a hunter or showman you may spend more money elsewhere but Cookie Creeks prices are very competitive and fair for the quality of animal they produce. Hats off to y'all and your dogs and keep up the good work!
Submitted by: Wilmer Pinel on Jan 03, 2019
My family have been really contemplating adding a GSP to our family. We recently visited Cookie Creek Kennels and Mr. Blake Huff was very patient in answering our questions and addressing any concerns. Mr. Blake was very professional and courteous, but more importantly very knowledgeable about the breed!! It is what my family and I needed!
I am more than certain that when we are ready to pull the trigger we will certainly go to Mr. Blake and Cookie Creek Kennels!!
Submitted by: Dustin Mitchem on Jan 03, 2019
I have never seen a breeder that has put more time, effort and care into having a quality kennel. My GSP has by far been the most intelligent and loving pet that I have ever owned. I was more than impressed with every aspect of Cookie Creek Kennels.
Submitted by: Ronnie Bankston on Jan 02, 2019
If your looking for a quality family oriented husband and wife team of breeders this would be your go to place. First class set up from top to bottom. Pups are cared for with love from birth to sell. Kennels are maintained, heated, cooled, pups have separate feeding areas. First class operation, if your looking for a top notch pup this is your place. Blake is always available and very honest! Can't wait to pick up my new pup!
Submitted by: Chad Simmons on Jan 02, 2019
Top notch kennel! They opened their doors to our family and introduced us to their litter of pups. All new facilities, well maintained, climate controlled, and no short cuts taken to give these dogs the love and health they need. Blake has been very easy to deal with, flexible, and informative. Our family is very excited about bringing our new puppy home!
Submit your testimonial