Brousseau Retrievers - Louisiana Chesapeake Bay Retriever Breeders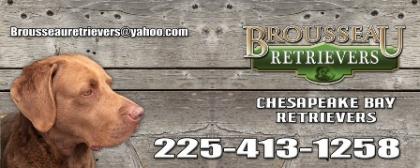 About Brousseau Retrievers
We have four female Chesapeake Bay Retrievers: Halloween Honey's Big Nose Kate (Brousseau's Cal-i-Co Ruby Don't Take Your Love to Town x Halloween Honey's Buddy-Bilbo), SHR Halloween Honey's Primrose (HR Halloween Honey's Prairie Rose WDQ x HRCH Rudy's Chasing Minnesota Fatz MH**), Halloween Honey's Lily (Brousseau's Cal-i-Co Ruby Don't Take Your Love to Town x HRCH Halloween Honey's Buddy WDQ) and Hope Springs Brousseau's Darling Clementine (Hope Springs Little Ponzi MH x Pond Hollow Name Your Game II SH CGC); and we currently have one male: SHR Halloween Honey's Doc Holliday (Brousseau's Cal-i-Co Ruby Don't Take Your Love to Town x Halloween Honey's Buddy-Bilbo).
Hunting Dog Breeds Raised
Chesapeake Bay Retriever
Additional Services
Training, Stud Services, Boarding
Breeder Contact Info
Testimonials (3)
Submitted by: Cathy Lee Stephens on Apr 04, 2013
I am a dog trainer and have a client looking for a chessie. Terry returned my call and emails promptly and we immediately set up a meeting with him this past week. He is honest, takes care of the breed. Dogs are well cared for in a great atmosphere. Puppies are born indoors and monitored by Terry and his partner and wife Patsy. Amazing couple who love and respect the breed. My client is getting a puppy from Terry and I'm considering it as well! Highly recommend him as a chessie breeder in Louisiana! Can't buy honesty and character like Terry.
Submitted by: Sam Hanson on Aug 17, 2011
I bought a pup from Terry back in febuary of 2011 she is VERY smart, willing has a great nose and a great temperment. She is great with my year old daughter! She is a AWSOME dog. I am very pleased with my experience with Brousseau Retrievers and would recommend them any time.
Sam Hanson
Sheyenne North Dakota
Submitted by: Marty Newport on Oct 12, 2009
I own and operate a Retriever Training Kennel (HighMark Retrievers) and operate a Guide Service during Waterfowl Season here in Mississippi.
This past May I hosted a training day here at my kennel, Terry attended bringing Buddy and Annie. I was so impressed with their prey drive and temperment, I decided to purchase a pup from this breeding.
My pup Teal is extremely well socialized and I cannot express how happy I am with the introduction that Terry has done with these puppies to ducks, pigeons and bumpers. I highly recommend this litter to anyone looking for there next Retriever. Either for the duck blind or as in my case my next Competitive dog. Feel free to contact me if I can be of help or answer questions.
Marty Newport
HighMark Retrievers
Hernando, Mississippi
662-449-0904 H
901-493-7267 C
Submit your testimonial