Thorny Mountain Shorthairs - Kentucky Breeders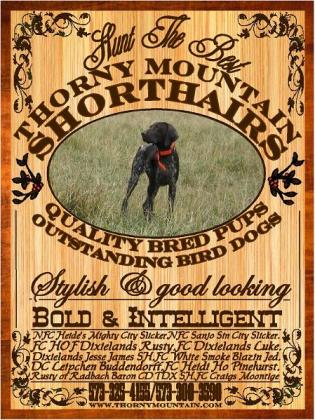 About Thorny Mountain Shorthairs
Thorny Mountain is a small kennel dedicated to producing excellent hunting dogs.Our pups are bred for good looks,desire,biddability,and personality. Our socialization program starts at two weeks and continues as long as we have the dog.This program produces a dog that deals well with stress,is easy to train,loves people,high game drive,no gunshyness,and the boldness to enter new situations confidently.Take a look at our website to see what we have for sale at the moment,and while you're there you can look at our pedigrees and pictures of the dogs we've raised to get an idea of what your future hunting companion looks like.References gladly given,testimonials appreciated.
Hunting Dog Breeds Raised
Breeder Contact Info
Testimonials (4)
Submitted by: Malcom Waller on Oct 28, 2008
Thank you larry for Lucy, i purchased Lucy when she was 1 yr old. From day one she was easy to work with. Whistle broke whoa broke retrieved from the first bird i shot over her and hasn't missed one since. she is very beautiful and a pleasure to hunt with in the field. My favorite hunting dog that i have ever had and i"ve paid thousands for broke dogs and Larry did not consider her broke but she did everything and well.
She took fourth in a field event with seasoned dogs(the cheapest being around $3500.) and the judge told me that i held her back, he actually tried to buy her on the spot.
Thank you Larry, anyone can email me for a reference.
Malcom
Submitted by: JOHN DAVIS on Feb 26, 2008
We bought Zeus at 8 weeks old, he had so much natural ability I started him on Quail with a 410 at 3 months old from the very first Bird he would hold and watch the bird fall, then he would retrieve, he is very intelligent pup, he also stayed on a wounded bird in fescue for over 5 minutes until he found the Bird,
Zeus keeps a close watch on other Dogs and will back also, We made 3 Trips to Kansas Pheasant hunting on Glen Elder area he did take him long to start pointing Pheasants less than a year old he is a real Gundog, very pleased with the Dogs breeding and natural ability.
Also Larry is a Great guy to do Business with.
John Davis
Seymour Mo
767-4582
Submitted by: Donald and Diane on Feb 24, 2008
We can only say good things about Thorny Mountain Shorthairs. We were very fortunate to find Larry when we were looking for our GSP puppy. Larry went above and beyond the call, from our first call to him about puppies to sending her into NY airports during Christmas time, to her adjusting to her new family. He was always and still is just a phone call away when we have concerns.
At 4 1/2 months old,(we've had her for only two months) we find her to be affectionate, obedient, and she seems to instinctively work intelligently in the field with the minimal time we have to train her.
Our advice for anyone looking for a hunting dog would be to give Larry a call. He is a true gentleman and a pleasure to do business with.
Submitted by: Diane Scholten on Feb 18, 2008
We purchased a male and female from Larry and were amazed by there natural instinct and hunting desire! They have excellent noses and are very solid pointers. If we need another dog in the future we will look Larry up as we have had shorthairs for many years and love the quality we see in his dogs!
Submit your testimonial