Shepherd's Kennel - Kentucky Beagle Breeders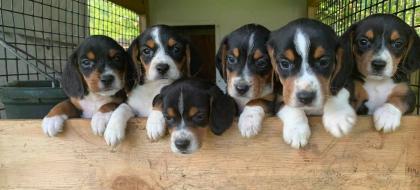 About Shepherd's Kennel
Specializing�In Gundogs you will be proud to own!!!!!
�
We usually have a couple litters a year.
Our litters�sell pretty fast, due to the fact�we price them for the average family to afford and our pedigrees speak for themselves.�
We are hunters first and foremost and love to see our dogs at work in the field.�
Our dogs will make�great family pets and excellent hunters!
Call today to�reserve you future hunting partner!�
.
We have started and finished dogs for sale from time to time!
We are the proud owners of
AKC Gundog Beagles
and
AKC�Pointing Labs and Mountain Feists�
�
�
���������������������������������
Hunting Dog Breeds Raised
Beagle
Breeder Contact Info
Testimonials (2)
Submitted by: Darren Melton on Aug 25, 2013
Thanks Shep for another beautiful patch pup and for meeting me again...GOD bless!
Submitted by: Darren Melton on Jul 08, 2013
I am so thankful because I have been wanting a Patch pup for a while but distance and price has kept me from obtaining one until I met Shep online....so Thank you Shep for everything,was so nice meeting you and your wife....GOD bless!!!
Submit your testimonial