Run-N-Gun Kennel - Kentucky English Pointer Breeders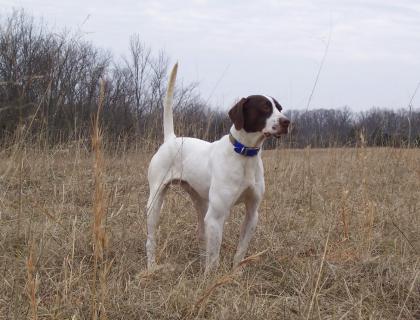 About Run-N-Gun Kennel
Specializing in Elhew Gun Dogs. Puppies, Started and Broke dogs for sale. Home of Run-N-Gun Tommy Hawk, Son of Ch. Rock Acre Blackhawk and Ch. Elhew Swami. Run-N-Gun Black Snake, Son of Joe's Attitude and Snake's Elhew Misty, Joe is a brother to Ch. Shadow's Attitude, Snake's Elhew Misty is a full sister to Elhew Katie Lee. Run-N-Gun Billy Kid, Heavy bred Elhew Fibber McGee.
Hunting Dog Breeds Raised
English Pointer
Additional Services
Hunting, Training, Stud Services, Birds for sale
Breeder Contact Info
Testimonials (4)
Submitted by: Richard Geary on Jan 11, 2017
Ronnie
Eight Years ago I purchased a pointer from you. She has won three field trials and been a traffic house pet. She is still going strong and I would like her to train my next pointer.
In February I would be looking to purchase another English pointer from you if possible. Not sure if you would have any available at that time but I will be willing to Waite.
Thank You
Richard Geary
Submitted by: Jason Burton on Jan 14, 2009
"Lucy" is one of the best breed Pointers I have had. She is a natural athlete which is a true statement about breeding.
My father gave me my first "very own" bird dog when I was 11 years old. I am nearly 40 now and have been buying, working, hunting and training dogs since. Run-N-Gun is without a doubt one of the most friendly kennels to do business with.
Submitted by: KELLY & CHASTITY CHANCE on Jun 11, 2008
Our Kennel is almost literally full of Run-N-Gun pointers in some shape, form or fashion. We have purchased several pups and adult dogs from him and they have all been over-the-top quality.
Ronnie is a good, honest person and he knows his Pointers. He has been our mentor in this field and instrumental in his support of our growing North Georgia kennel (Dirt-Broke Kennels.
A+ quality all the way!
Submitted by: DAVID JONES on Dec 14, 2006
I BOUGHT A 6 WEEK OLD MALE PUP IN 2003. NOT BEING A PROFESSIONAL, I WAS CONCERNED IF I COULD PROPERLY TRAIN A POINTER. I FOUND THIS DOG TO BE SO BIDABLE HE ALMOST TRAINED HIMSELF. DO UNDERSTAND THE POINTERS ARE A HARD HITTING BREED AND NEED DIRECTION BUT ARE EGAR TO LEARN AND PLEASE THEIR MASTER. HIS DOGS ARE NATURALS AND IF YOU DO THE BASIC COMMAND TRAINING YOU WILL HAVE A PARTNER IN THE FIELD. I DARE ANYONE TO SHOW ME A DOG WITH BETTER SENTING ABILITY AND I'M NOT TALKING ABOUT A KENNELED DOG. HE LIVES WITH ME INDOORS WHENEVER I'M HOME.
Submit your testimonial