Morris Llewellin Setters - Kentucky Llewellin Setter Breeders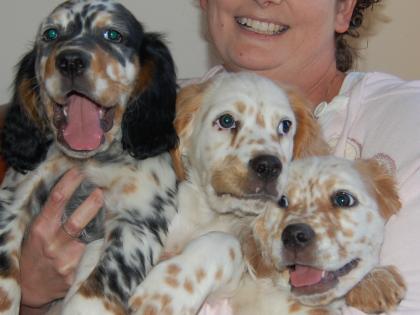 About Morris Llewellin Setters
MORRIS LLEWELLIN SETTERS
Welcome! We are very pleased to be able to share our love of Llewellin Setters with you.
We are located in Owenton, Kentucky and have a small run kennel. Our hobby is our Llewellins, and we are very passionate about our hobby.
We breed to stay true to the blood line and to keep our dogs healthy. This keeps the Llewellin breed the amazing setter it is.
The Llewellin is always ready for a hunt, providing much excitement for itself and the owner. The breed is a close working bird dog, but leaves no area uncovered.
The point of a Llewellin setter is so intense, but with such grace, it makes for the hunters day.
Not only will the Llewellin win the heart of the hunter in the family, but is capable of winning the entire families hearts. They are a excellent breed with people, with a loving personality, and very eager to please, making a great companion for any family.
Hunting Dog Breeds Raised
Llewellin Setter
Breeder Contact Info
Our Pedigrees
Testimonials (2)
Submitted by: Brian bowles on Nov 21, 2013
I decided to try a Llewellin so I went with Morris they had a litter in Feb of 2013. Parents looked good all pups looked good healthy pleasure to talk to when I had questions. I have had Trixie since April she would retrieve at 9 weeks, 3 1/2 months would point Pigeons whoa broke at 4 months kennels up on command very smart dog. I have been hunting her this yr and at 9 months has already pointed 2wild covey. Well needles to say IM very pleased with my purchase highly recommend smart and pretty dogs.
Submitted by: Tom Cogswell on Aug 10, 2011
Ten months ago the weather turned cold in Northern Lower Michigan and my wife stopped walkng with me outside. Oun neighbor was walking her fine bird dogs and I decided that I needed that loyal best friend.
I started my research of about 10 breeds and narrowed it down to two finalist. When I saw the posting on this board of the prior litter from the Morris family I knew what I wanted and where I was going to get it.
When I first talked with Wayne his philosophy and goals were so much like mine I was sold. If I was going to breed setters I would do it almost exactly as the Morris family has done. I could have purchased a simular dog for less money and closer to my home but I had set high standards which were exceeded beyond my expectations.
I plan to have my dog Ehlzie in the field this year learning the basics and I hope to have her hunting with her parents one day.
Tom
Submit your testimonial