Bobs Britts - Kentucky American Brittany Breeders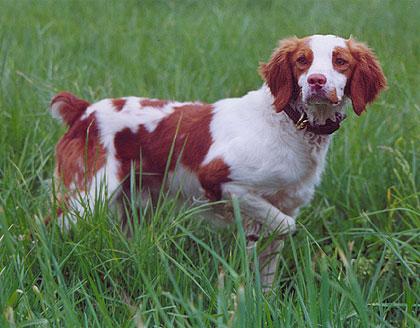 About Bobs Britts
Bob's Britts is a small kennel that strives to produce a quality Brittany gundog for the discriminating hunter, trialer or just a great family companion. CH Rusty Bullet (son of CH Nolan's Last Bullet and NSTRA Champion Kentucky Belle De La Cour) thinks he's the top dog here just because he has four championship titles. Fortunately I still drive the truck and handle the firearms. Rusty is producing some extremely nice gundogs as well as winners in at least three different types of competition that I know of. I've been bird hunting for 53 years now and still get as excited when the covey comes up as I did at four years old. I also began running NSTRA trials about 29 years ago as a way to lengthen my time spent with my dogs. Field Trials are the means by which you may derive your better dogs for improving the breed. I have been fortunate over the years to have won some trials and some championships but don't forget I also hunt these same dogs. The other ingredient that is foremost in my success has been to not accept any temperment from my birddogs that I didn't feel comfortable with around my children. This has made a pretty tough formula over the years but it sure has worked out to suit me and countless others. I usually have a litter of Brittany pups for sale or one planned so if this type program sounds like it might suit you please give me a call. Thanks and happy birddogging.
Hunting Dog Breeds Raised
American Brittany
Additional Services
Stud Services
Breeder Contact Info
Testimonials (3)
Submitted by: tony adkins on Jun 08, 2013
I have recently purchased a pup from Bob and I am very pleased with this pup. I have owned several Brittany puppies in the past, but this one is by far, is the most intelligent and well mannered pup I have every owned. He is already showing hunting skills. For example he retrieved a ground mole just the other day and it was still alive! I have no doubt that he will be a wonderful hunting dog and companion. I don't think anyone could go wrong with purchasing one of these puppies. Bob really knows what he is doing, great pups, great guy.
Submitted by: pat axelson on Feb 21, 2009
we drove down from northern mn in may of 2006, picked a12 week female and drove 1000 miles home. well worth the trip, bob was great the kennel was set up nice, and the dog who will be 3 in march has worked out very well. i just returned from a boat show where english labs were featured, one of the kennel owners knew of rustys blood line, told him where my 3rd britt was from and he had heard of bobs. i would and will get another britt from him down the line when i move to the country.
Submitted by: Catherine on Sep 17, 2007
We got a puppy from Bob in June 2007. I had found Bob's web site through the Gun Dog Breeders site, and afer looking his web site over, I called him to inquire about getting one his puppies. He was very friendly and easy going, gave me lots of information, and answered all of my questions. Bob told us all about the bloodlines our puppy came from, and he felt confident that our puppy would be a great hunting companion, as well as a great pet. Bob's prices were also very reasonable. The only thing negative I can really say is that the outdoor kennel did smell a bit bad when we went to pick up our puppy, but maybe he just hadn't had time yet that morning to clean it out thoroughly since so many of us were picking up our dogs that morning. He has a very nice, probably expensive too, outdoor kennel, and it looked clean. It just smelled bad. Bob was very professional & helpful when we picked up our dog. You could tell how much he loves to hunt with all his dogs, and how special they all are to him. He gave us a guarantee on our puppy's hips, eyes and ears. Our puppy is now 5 months old and is a wonderful and lovable pet, who wants to please us so much. He has terrific instincts for hunting, and coupled with the training we have done with him, he is ready to hunt this upcoming season. We are very happy, and would definitely buy a dog from Bob again!
Submit your testimonial