Westwind GSPs - Kansas German Shorthaired Pointer Breeders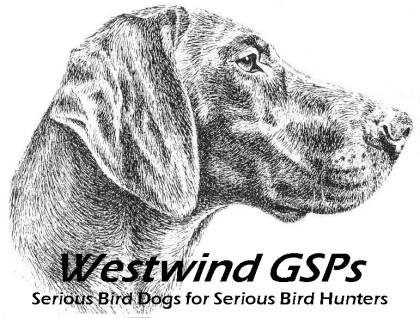 About Westwind GSPs
For more information call 1 800 675-2772
Hunting Dog Breeds Raised
German Shorthaired Pointer
Breeder Contact Info
Testimonials (3)
Submitted by: gary whitley on Oct 27, 2015
Levi, a German Shorthair came to VA by plane. I had my wife and daughter take him out to grass and our car while I paid the bill. He would stay in the crate at night in the living room. He has yet to mess in the house. As a puppy I would play with him before an approaching storm. Then I would sit in the yard with Levi curled up on my lap as the rain, thunder and lighting hit petting and talking with him. Loud sounds such as gunshots have never bothered him. I would cut small sections of hot dogs to toss out in the yard or field and command hunt dead. You can hear the hugh increase in air intake as he searches. I've hunted grouse in Wisconsin, but in VA we have hunted ducks, grouse, woodcock, doves, turkey and rabbits. Last year 2014 my wife was going to take a shotgun class with one of our daughters when she confessed that she had never fired a shotgun. We walked to a back pasture and she fired a 20 ga. shotgun out into the pasture. Levi took off. We walked back to front of the house and sat down talking about the gun. Five minutes later, Levi out of breath dropped a full grown rabbit at her feet. Simple, she fired the gun and he delivered the rabbit to her feet. Can your dog do that? When I shoot tin cans with the .22 he will sit behind me and wag "stubby - his tail". When I'm through he will retrieve the can I shot. This year at 70, I've tried to learn to shoot a pistol for the first time. When I go to the back pasture and fire the pistol here comes Levi. He looks at where I've been shooting and starts to hunt "dead bird". I go back up to the dog pen and he has bent the frame of the chain link gate of the dog pen to get out. If I leave him in the dog pen Levi will stay. If I shoot he is coming out to retrieve. I now place multiple chains in the lower section of the gate. At 15 Levi will still go crazy with desire when one of two things happen; tell him to "get in the truck" or walk out the front door with a shotgun. He doesn't mind being a cow dog or house dog at times. I'm supposed to shoot and he is supposed to retrieve, he does not fail. I have never seen a dog with as much desire to hunt and retrieve. Our hunting trips are shorter and we find less game but we still get excited to hunt together. I have thoughts of getting another Westwind puppy and let Levi train him.
Submitted by: Erich Burnett on Oct 16, 2008
We received our Westwind GSP in April 2008 and she has been an absolute ANGEL! Not the typical crazy GSP puppy running around, chewing on things, getting into trouble. She's very intelligent, learns quickly, very obedient, picked up on hunting in about 4 seconds, and is very eager to please her owners. She came to us after losing are very loved Georgia. Hana has filled her spot perfectly and we look forward to many fun years ahead. Gary is a great breeder and everything he told me 100% accurate and he gives great advice. Her first hunting season starts in 2 days and we are very anxious.
Submitted by: Aaron Hasty on Jan 12, 2007
Gary does a great job. He is VERY well informed about the breed, it's history, and the blood line of his dogs. His pups are well socialized and mine was crate broke when I picked him up at 8 weeks. He rode home with me for 5 hours with no mess or constant barking and I only had to stop twice for him to relieve himself. That also meant no barking, at all, the first night away from his littermates. The dog is very intelligent, it took only a few reps. to get him to obey commands like come, kennel, and down. He listens well and doesn't get all bent out of shape and when he is scolded or corrected. He was house broke by 15 weeks. He is eager to please and always in tune with me. If I am sitting down watching t.v. or reading he is by my side chilling out, not running around like crazy or chewing the house out from under me. My vet says that he is well built and that I should think about showing him. He is a very handsome dog compared to all the other GSP's that I've seen. His nose is good, pointing at yard birds (pigeons and captive quail) at three months and I had killed wild Missouri quail over him at 5&1/2 months. He is much more dog than I had hoped for.
Submit your testimonial