Shady Meadows Gundogs - Kansas American Brittany, English Pointer, English Setter, German Shorthaired Pointer, Labrador Retriever Breeders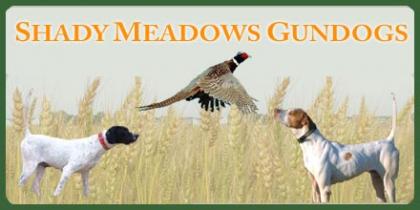 About Shady Meadows Gundogs
Shady Meadows Gundogs grew out of our passion to hunt behind beautiful, well disciplined, hard working bird dogs. Like most people, we started with 1 dog, a classy orange and white female Elhew Pointer. From there, our passion for watching the dogs work has grown and I bought a couple German Shorthairs. We started with staying at a lodge in north central Kansas, hunting with family and friends on private land and wild birds. We always came back to the lodge with more birds then the lodges paying hunters got on the lodges land on wild and released birds. They finally talked me into guiding for them and that was the start of the business side of hunting. Working on pen raised birds under the supervision of someone who knew nothing about hunting got old quick so I struck out on my own and soon had clients from Georgia to California and we hunted only wild birds. As the numbers of clients grew, so did the need to have more dogs to keep fresh ones on the ground at all times. That, combined with clients wanting to buy the guide dogs and puppies out of them brought into existence Shady Meadows Gundogs.
Shady Meadows was carved from the woods of west central Missouri by my grandfather in the late 1960's and early 1970's. Construction was completed on the log cabin that we now call home in 1977. We purchased Shady Meadows from my grandfather in 2004 and began construction of the kennel buildings to move our operation. Our cabin overlooks a very well stocked fishing lake that provides excellent water training facilities for our German Shorthairs and Labrador Retrievers. We also have hundreds of acres of fencerows and natural cover for upland training. We specialize in English Pointers, German Shorthairs and Labrador Retrievers.
Originally, we started with breeding for and training for what we want in a bird dog. A close to medium range, hard working, strong nosed bird dog with tons of style. We found that a lot of our puppies started going to NSTRA guys around the country and thus was born our interest in foot trialing and then to horseback dogs as well to run on our trips in Texas. We now keep several strings of dogs. Short range pheasant dogs for hunting South Dakota and Kansas, medium range quail and pheasant dogs for Missouri and Kansas and big running pointers for our Texas hunts.
We got off to a rough start with a full time trainer that really hurt our reputation by not producing what he said he was on about 10-20% of the dogs. If nothing else, it showed our customers that I'm an honest guy because I had to replace a few dogs. Now Shady Meadows Gundogs has grown from just me to me and 1 mediocre trainer to now we have a partner/professional guide out of Texas and 8 professional trainers that make up Shady Meadows Gundogs, Shady Meadows Outfitters and AB Joint Outfitters.
We now breed dogs for foot hunters like us, foot trialers like my partner and horseback trialers alike.

The training aspect of our business though still focuses on producing quality, high style, hard hunting foot hunter and foot trialer dogs.

We also train Labs for upland and waterfowl hunting.

We supply dogs to dozens of plantations, shooting preserves and other outfitters along with everyday hunters.

We 100% guarantee all our puppies and dogs.

We realize that for many of our customers, the decision to purchase a dog is a 10+ year commitment. Please take the time to explain to us your hunting and social situations that you expect your new dog to fit into. That way we can help you choose the right dog for your situation.
If we can be of any assistance, whether it be training tips, facilities advice, a new puppy or started/finished dog feel free to drop us an e-mail or give us a call.

We appreciate the time you have taken to learn about us and look forward to serving you in the future.
Hunting Dog Breeds Raised
American Brittany, English Pointer, English Setter, German Shorthaired Pointer, Labrador Retriever
Additional Services
Hunting, Fishing, Training, Stud Services
Breeder Contact Info
Testimonials (1)
Submitted by: Jeff on Nov 25, 2009
I was new to upland hunting and gundogs; I wasn't sure what type of dog I wanted. After talking with Shawn at Shady Meadows I knew what I wanted. My Dad and I bought 3 finished English Pointers from Shawn based on his Honest description. These dogs perform just like he said they would, I get so excited watching them work. They point and back each other from over 30yds and are great on the retrieve. They handle very easy, and point with such intensity nothing distracts them. They have great noses finding birds that other dogs miss. Rock pointed a pheasant at 25yds from behind a shorthair that never caught the scent. He also retrieved a pheasant a lab would not. Great dogs! I am so happy my dogs came from Shady Meadows Gun dogs, Thanks Shawn!
Submit your testimonial