Setter Dogs - Kansas English Setter, German Shorthaired Pointer Breeders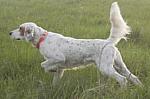 About Setter Dogs
Professional year round bird dog training facility for pointing, flushing, versatile, and retriever breeds. Upland bird hunting training programs for puppies, started and finished dogs. Guide service available for pheasants, quail, turkeys, deer, coyote and bobcat. Dealer for Deer Creek Dog Boxes and Dogtra Collars & Launchers.
Hunting Dog Breeds Raised
English Setter, German Shorthaired Pointer
Additional Services
Hunting, Lodging, Training, Stud Services, Boarding
Breeder Contact Info
Testimonials (4)
Submitted by: reno mascio on Jul 25, 2012
I purchased a setter pup from a different breeder, just last week and I realized the difference between a good breeder and a great one. Last year I purchased a pup from Jim Gourley and can't express sufficiently my 100% satisfaction with this gentleman. Mr. Gourley, not only sells excellent dogs, but he showed us how much he cared for his pups. This man is conscientious about his work and it shows. He kept in touch with me through the entire whelping period, up until he shipped our dog. He provided us with weekly videos of the pups and allowed us ample time to choose our pick... He actually shipped the pup a week later, for he was concerned about the heat and how it would effect the pup. Our pup came to us in a clean pet carrier, with ample water and food. She was happy and healthy. Jim supplied us with all the necessary paper work, as well as the doctor's health certificate. I tried to purchase another pup from Jim this year, but was too late. As a result, I purchased from a different breeder and found out that there aren't too many Jim Gourleys in this world. Thank you again Jim for Kaysee. She's the love of my life. God Bless and keep up the good work....
Reno Mascio
Plymouth, Ma
Submitted by: Daniel M. Williams on Jul 11, 2012
I first talked to Jim on the phone last year about getting a setter female puppy from him, when he notified he had bred a female so I sent in a deposit. I have been very impressed with his knowledge.
I traveled up to his kennel on monday the 9th of July to pick up my english setter female puppy ( named her AMBER) And soon as I saw her I fell in love. The puppy has been a pleasure- plays alot, very smart and attentive to me, on her way to be house broke already.
I was impressed with Jim alot and had a great visit. The kennels of Jim's are clean and tidy as can be, kept up very well, plus all the dogs seem to be very happy and well taken care of. I would be more than happy and willing to buy from again. I am also planning on booking a birdhunt or two with him too.
Submitted by: Nance Ceccarelli on Oct 29, 2007
We worked closely with Jim Gourley to achieve a fabulous breeding between his dog, Tomoka's Mendy Shades and our female, Pirate's Bonne Run. The litter turned out well - eight of the pups are experiencing wonderful hunting seasons this second year.
Jim is professional, thoughtful, reliable, and provides quality service.
Nance Ceccarelli and Paul McCawley
ESetters
Moscow ID
Submitted by: Patricia R Thomas on Jan 25, 2007
If you're looking for a good trainer you've chosen the right kennel. Jim Gourley trained and trialed my dog for almost 3 years. He started training and trialing CH Tekoa Mountain Dakota(Cody) when he was only 10 months of age. Cody became a Champion by the age of 2 years. He is an honest down to earth person that takes pride in all he does. Keep up the good work.
Frosty Morning Kennels
Submit your testimonial