Ringneck Kennels - Kansas German Shorthaired Pointer Breeders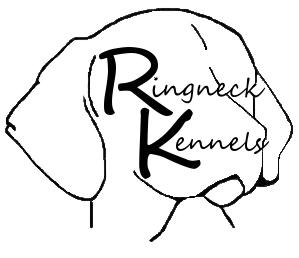 About Ringneck Kennels
            Ringneck Kennels is a breeding and training facility located in Concordia, Kansas! Owners are husband and wife - Blake and Brianna Wolf.
Blake is our head trainer, handling obedience and gun dog training.  Bri is our puppy coordinator and professional photographer.  She keeps up with the latest in the world of puppies; handling health and well-being. 

We welcome all dogs with an extreme amount of care and compassion.  Our top of the line facilities feature climate controlled indoor/outdoor runs, automatic watering systems, and individual dog beds.  Daily pressure washing and periodically maintaining our runs are two of the ways we keep an exceptionally clean facility.

While dogs are a huge part our Ringneck Kennels, our clients are equally important!  That is why we use multiple forms of communication to help stay in touch with you.  Facebook is one of our most effective means, but we are also available via text, e-mail, and phone call. 
Here at Ringneck Kennels, excellence isn't a goal, its a Standard!  We have developed a well rounded, family oriented breeding program designed to produce excellence in the upland field, waterfowl marsh, woodlands, and of course the home. 
                          
Hunting Dog Breeds Raised
German Shorthaired Pointer
Additional Services
Hunting, Training, Stud Services, Boarding, Birds for sale
Breeder Contact Info
Our Pedigrees
Testimonials (6)
Submitted by: Kathy and Arnie on Apr 12, 2014
As a hunter and a fisherman I got slowed down. You see I had a heart attack. Meanwhile we got a hunting dog that was too much for me to train. So I went looking for a trainer and found Ringneck Kennels. Best choice I've ever made. Their head trainer Blake is one of the best!! He took our dog, Pepper, as showed on his web site from a dog with no training to a bird loving and hunting dog that I expected. I would do it again; if I had to do it over. Thanks Blake!
Submitted by: Penny Baxa on Apr 12, 2014
Blake has done a wonderful job with our Chevy! She has turned into a complete Angel Dog! Thank you soo much Blake! We are very pleased with the work and time you spent with her!! I highly recommend Ringneck Kennels for Dog Training!!★★★★★
Submitted by: Paul on Apr 12, 2014
As an avid bird hunter, who unfortunately finds themselves (like many of us) with limited time and training resources to devote to our faithful hunting companions. Blake Wolf is truly one of the Best in his industry. Let's talk expectations: It was important to us to not only have an exceptional hunting dog, but even more so a good family dog. Blake understands each client is different and each dog is different. He chose to put Bella on birds early. Wow, that early exposure combined with their training to point, flush, and retrieve has been impressive. Lastly, the attention to socialization and obedience has made Bella a very loving and enjoyable part of our family. Thank you Blake for Everything!!
Submitted by: Harold Johnson on Apr 12, 2014
Blake did a FANTASTIC job with Gibbs! Not only did he work with Gibbs, he also took time out to train us! Thanks for doing such a great job! Expect to hear dr us when our youngest is in need of your services!
Submitted by: Steve Beckham on Jun 13, 2012
My dog just turned 6 mo. and is fast becoming a stud. I don't think there is anything that he can't do. Very happy with him. Thanks for such a good dog.
Submitted by: Kari Criger on Feb 12, 2012
We picked up our GSP 2 days ago. She is 8 weeks old and she is perfect! Rigneck Kennels did a great job! They met us more than half way to deliver her and were very easy to work with. If we decide to add another pup someday we will definitely contact Rigneck again!
Submit your testimonial