PRAIRIE FIRE POINTERS - Kansas English Pointer Breeders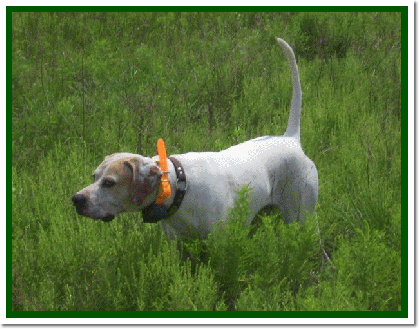 About PRAIRIE FIRE POINTERS
PRAIRIE FIRE POINTERS, located in Pretty Prairie, Kansas is committed to breeding intelligent, socialized, and distinguished Elhew English Pointers for the Upland foothunter and walking field trialer. Contact us, or visit our website for information on upcoming litters, and the availability of our started & finished gundogs. Pedigrees obtainable on our website. Stud service is $400 or negotiable with a fair pick from your expected litter so feel free to call us for further details. All dogs are registered with the American Field. We are a smaller operation/kennel, and we have choosen only proven dogs with proven lines to build upon. I have a list of reference clientel if you so wish. We cater to just about anybody's need for a Pointer. Whether it is a finely tuned gundog for the hunting club or CSA, Field Trial Circuit, or a Fine looking dog with an impressive pedigree to lead your kennel, we have you covered here at Prairie Fire Pointers.
Serious time and consideration has been put into our kennel. We truly care about each and every dog we raise. I would rather have quality dogs than a large quantity. This enables us to exersize and socialize each of our dogs every day. Rest assured if you purchase a dog from our kennel, it hasn't just been wasting away in a pen and only taken out to hunt or train. Our dogs receive plenty of training, social time, and play because I feel it is absolutely crucial in helping develop them into a fine gundog.
You can also get all your sporting dog supplies and gundog training equipment at our store, PFP SUPPLY. We offer a complete line of products for upland birddogs, waterdogs of the marsh, and those tracking and trailing hounds of the night. Stop in and visit us at www.prairiefirepointersupply.com! FREE SHIPPING ON ALL ORDERS OVER $100!
We pride ourselves on building good customer relations, Therefore if I don't have what you are looking for, I will refer you to a very reputable kennel to get you what you want. I also work in cooperation with Prairie Wind Hunting Club, so if you're desiring that ULTIMATE Kansas pheasant, quail, turkey or whitetail deer hunt, look us up and I'll make you glad you did.
THANK YOU FOR CONSIDERING PRAIRIE FIRE POINTERS!
Hunting Dog Breeds Raised
English Pointer
Additional Services
Hunting, Training, Stud Services
Breeder Contact Info
Testimonials (7)
Submitted by: Jeff Seimears on Mar 17, 2010
Hi Jess and Jessica, Hope is all Well with your family. Dottie(Sadie) is doing great we shot birds over her this year, she's a natural. If she was this good her first year I can only imagine what we have to look forward to.
Thanks again,
Jeff
Submitted by: Wade on Feb 27, 2010
Hello Jess and Jessica, Just thought I'd send a update about your boy in action. He's working with my 4 yr. old pointer Gage. They really know how to vacuum a field of pheasants. They have found about 150 pheasants this year so far and I have another month to go....we might make 200. I'm very proud of them both. I've sent several people to your website that are interested in finding a good pointer.....hope to see more of your dogs in the field! I have to admit that Pork has been the easiest dog I've ever had to train....at times I think he's training me! Hope your having a good year, and thanks again for the great dog!!! Wade Obermann
Submitted by: Leighton Rudd on Feb 27, 2010
Hey Jess,
We had several hunters in on opening day so Alex did not take her with the large group. There were too many people and other dogs. He did take her out this afternoon. I haven't received ALL of the details yet, but I know she found 3 pheasant. She was wet and cold when they returned! Stop in if you can. We'd love to see you and show off our Cleo. Hope you had a good opening day! Leighton
Submitted by: Kevin Bailey on Feb 27, 2010
Hello Jess, I hope that you and your family had a merry Christmas and a happy new year and congratulations on your new born daughter. We made up to Kansas for pheasants in November and again in December. The pup did great, it was like he had hunted pheasants all of his life. You and your family have a safe, healthy and prosperous new year. Kevin Bailey
Submitted by: Bob Stavola on Feb 06, 2009
Jess,
Those pups are incredible. You guys sure have your act together.
Submitted by: Wade Obermann on Dec 10, 2008
Hi Jess, Had Pork out again today.....he found 4 pheasants....he's pointing, backing, and retrieving wonderfuly. He really likes pheasants! I'm very pleased with his progress.....I've been running him with two other experienced dogs. He's been out about 7 times now.....he's really beginning to show his stuff.....he's the easiest dog I've ever had the privilege to train. Actually, he's learning everything from the other dogs....I'm just trying to keep up. Thanks again for the wonderful dog. Wade
Submitted by: Dustin Alley on Dec 09, 2008
I purchased my first English Pointer from Jess and Jessica back in July. I have had him out several times on pen raised birds and he just hammers those things! I graduated him to wild birds this fall and he has shown fantastic natural ability and relentless desire! Thank you so much for placing me with such a great gundog!
Dustin
Submit your testimonial