Prairie Drifter English Setters - Kansas English Setter Breeders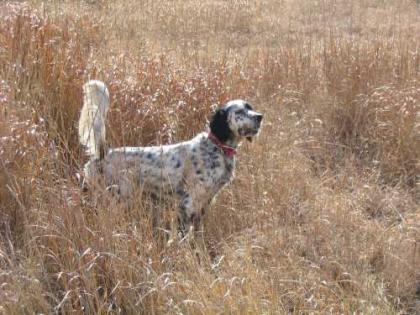 About Prairie Drifter English Setters
Prairie Drifter English Setters is the result of a life long passion for hunting upland game and a love for quality English Setter hunting partners that started in 1985 with Sky, a black and white bird-finding machine. We breed sensible dogs that train easily and work at a moderate range for a walking hunter. Our bloodlines include many prominent field trial champions from the past and present. Some of these include: Tomoka, Trail's End Tomoka, Grouse Ridge Reroy, Grouse Ridge Sage, The Insider, Grouse Ridge Paris, Mesquite Ridge Kosmo, Long Gone George, Tricky Dick, Brannigan, The Performer, Destinare, Grid Iron, Private Ryan, The Valedictorian, Pennstar, Cooper Mountain Pepsi, Can't Go Wrong, Full Tilt, Body Guard, Havelock Blacksmith, Stillmeadow's Jim, Grouse Ridge Maxima, First Rate, Long Gone Agnes, Trail's End Bubba, and Tug Hill Ballerina. We keep and breed only the best, bringing bloodlines from all over the country to Kansas to make them available to hunters in middle America. We only breed a couple of litters per year. Our pups are whelped in the kitchen, handled all day long, and socialized to be ready to go to work when you take them home.
Hunting Dog Breeds Raised
English Setter
Additional Services
Stud Services
Breeder Contact Info
Testimonials (2)
Submitted by: Bill Gilchrist on Sep 07, 2021
Troy has been a mentor for me, and Prairie Drifter Gwen, granddaughter of Grouse Ridge Reroy, our 3rd setter, handled running Gambels and tight-holding Mearns really well through some pretty lean years. Pointed our first blue grouse, pointed sage grouse. Her last big trip was to the Cimarron National Grasslands, camping where we'd camped the day I'd picked her up at 10 weeks old, pointing a covey of 20 bobwhite in a lean year.
Submitted by: Dwight & Susan on Nov 17, 2010
We love our pup. He is a fantastic hunter & a great personality. Thank you for a great edition to our hunt & family.
Submit your testimonial