Outback Kennels - Kansas German Shorthaired Pointer Breeders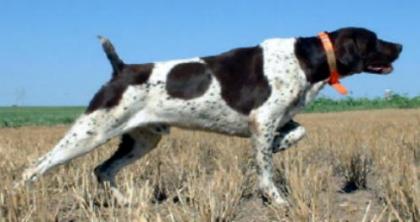 About Outback Kennels
Specializing in Experienced Proven Older Dogs and Well Trained Young Gun Dogs. 
Hunting Dog Breeds Raised
German Shorthaired Pointer
Additional Services
Hunting, Training, Stud Services, Boarding
Breeder Contact Info
Puppies for sale
Testimonials (3)
Submitted by: Rodney Dragoo on May 22, 2022
This is a Testimonial to the GonDog Breeder website.
Steven Zobel: Greetings and thank you.
I have a WEIMARANER Number SR92859902, born April 8, 2016.
Kaiser came from Kirby Rust, Outback Kennels, Kansas.
I found you because you signed the dog's American Kennel Club registration form.
Thank you again.
Rodney Dragoo
Submitted by: Jeremy Unruh on Dec 10, 2013
I got a solid blk GSP female from Kirby. She is 9 now. We live in central SD. When she was only nine months we got second in a "guide dog only" friendly competition between a bunch of local guides at the end of the season. She has pointed and retrieved from the first bird I ever put her on and still will out work any lab in the field. She is a house dog and loves everyone. I can't say enough good things about her!
Submitted by: Jim Jorgensen on Mar 27, 2012
Great job in accurately presenting my new Englsh Setter bitch, Belle.
He drove two hours to meet my agent, Dan Mar.
He had all of the necessary paperwork and was pleasant to do business with, per my agent.
Thanks Kirby . . .
Jim Jorgensen
Brag Dog
Submit your testimonial